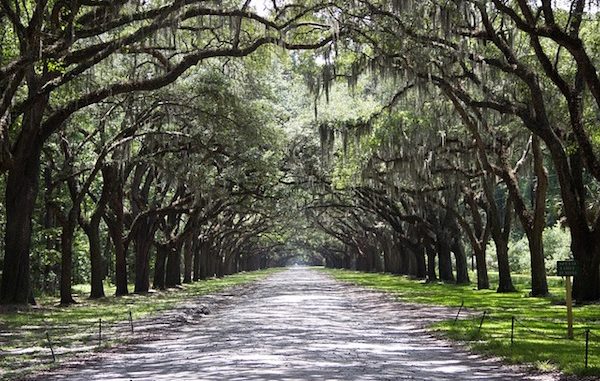 "Savannah… looked inward, sealed off from the noises and distractions of the world at large…The ordinary became extraordinary. Eccentrics thrived. Every nuance and quirk of personality achieved greater brilliance in that lush enclosure than would have been possible anywhere else in the world."
John Berendt wrote these words about Savannah and its people in Midnight in the Garden of Good and Evil, his bestselling book that put Savannah on the map. Largely due to Berendt's colorful love letter to the city, over 13.5 million travelers head to the riverside capital of Georgia every year.
I've driven down the east coast to Savannah several times, lured by the city's fading antebellum mansions, the graceful Spanish moss that hangs in curtains from huge oak trees, and the artistic influence of Savannah College of Art and Design (SCAD).
Savannah's historic district is uniquely arranged around 22 squares in an arrangement that forces you to take your time, relish your surroundings, and consider the idea that the best way to travel between two points doesn't necessarily involve a straight line.
This travel guide will share the top 10 things to do in Savannah, GA, along with some recommendations for inns and hotels. Read on to learn more about this evocative Southern city perched beside the languid Savannah River.
Fun Things to Do in Savannah, GA: Table of Contents
Here's the full list of the best things to do in Savannah, GA. Click on each attraction to learn more about it, or continue to scroll down to learn about what to do in Savannah, GA.
After you finish reading about the top Savannah attractions, continue on for some recommendations for the best hotels in Savannah, GA across a range of budgets. For now, let's start with Savannah's famous squares.

1. Explore the Squares of Savannah
It's easy to see what makes Savannah so unique and atmospheric. The city is organized around 22 squares, the first of which was laid by the city's founder, James Oglethorpe, in 1733.
Most of these squares are filled with lush gardens and lined by oak trees and dogwoods. Many have statues and monuments that honor soldiers from the American Revolution and Civil War. The picturesque squares are popular spots for visitors, walkers, joggers, picnics, and couples doing photo shoots for their weddings.
The following five squares stand out as the most beautiful and historically noteworthy:
Johnson Square – This square dates back to 1773 and was laid out by Savannah's founder, James Oglethorpe. The square features an obelisk dedicated to the Revolutionary war hero, Nathaniel Greene. If you visit in the summer, you might stumble upon a jazz, Dixieland, or big band concert.
Monterey Square – This picturesque square features a 55-foot Italian marble monument dedicated to General Pulaski, a Polish nobleman who was killed in battle in Savannah in 1779.
Wright Square – This much-visited square contains the burial site of Tomochichi, a leader of the Creek nation who forged an alliance with Oglethorpe.
Franklin Square – Named after Benjamin Franklin, this square has a monument for Haitian soldiers who fought at the Siege of Savannah in the American Revolution. On the edge of the square sits the First African Baptist Church, the oldest black church in North America. The church was a stop on the Underground Railroad.
Madison Square – This square is often filled with students thanks to its location beside SCAD, the Savannah School of Art and Design. It also honors the American Revolution with a large statue of noted American soldier, William Jasper.
Because of its squares, Savannah's uniquely designed historic district is supremely walkable. Whether you find yourself in a residential or commercial area, you'll be strolling through a pedestrian-friendly downtown draped in lush greenery and flowers.

2. Wander Through Forsyth Park
Savannah's lovely Forsyth Park stretches across 30 acres of the city. Built in 1858, the park hosts concerts, sports games, and fairs, along with a crowd of sunbathers.
Every Saturday, there's a farmer's market in the park that sells fresh produce, baked goods, and flowers. Vendors roam about selling flowers and baskets weaved together from dried palm fronds. The park also has a charming cafe where you can stop for breakfast, lunch, coffee, or a glass of wine.
Forsyth Park's most notable stop is the white iron fountain in the north end of the park. Prominently featured in Midnight in the Garden of Good and Evil, this two-tiered fountain has been the subject of many a photograph.
Like Savannah's historic squares, Forsyth Park has several large monuments and statues. The largest ones commemorate Southern soldiers who fought in the Spanish American War and the Civil War. Forsyth Park is especially beautiful in the evenings, when street lamps cast golden light across the winding paths, flowering trees, and old oak trees draped with Spanish moss.

3. Cross the Cobblestones of River Street
One of the oldest streets in Savannah, River Street still sports its original, 200-year-old cobblestones. This one-way street spreads alongside the Savannah River as 19th century steamboats drift past. To get to River Street, you walk down stone stairs or ramps from the adjacent, elevated streets.
One of River Street's top draws is the River Street Marketplace, an open-air market where local artists and craftspeople sell their creations. Beyond local talent, the market also attracts vendors from all over the world who sell global crafts from Ireland, Costa Rica, Australia, Nepal, Peru, Japan, Vietnam, and China.
You can also go shopping in small artisan and souvenir shops, some of which sit inside restored 19th-century cotton warehouses. There are a bunch of restaurants, as well as lively bars featuring live music after the sun goes down.
As for historical sights, look for the Waving Girl statue and the Olympic Cauldron monument. The Waving Girl statue honors Florence Martus, a woman who was said to wave at ships leaving and entering Savannah port everyday for 44 years. According to legend, she waved her white handkerchief hoping to reunite with a sailor she had fallen in love with. The more recent Olympic Cauldron monument was lit as part of the Olympic torch relay when Savannah hosted the Olympic yachting events in 1996.
River Street is a popular stop for anyone visiting Savannah. It's definitely worth a visit for the open-air market, views over the Savannah River, and historic charm of the cobblestoned street and passageways through 19th-century warehouses.

4. Visit the Historic Telfair Museums
Savannah puts great efforts into preserving its history and celebrating art and artists, a commitment that you can see in the city's many historic monuments and the influence of SCAD. These two commitments unite in the Telfair Museums, elegant landmarks with exceptional collections of historic and contemporary art.
Two of the three buildings that make up the Telfair Museums are housed in elegant mansions that are now historic landmarks. One is the Telfair Academy of Arts and Sciences, a grand 19th century residence and the oldest public art museum in the southern U.S. The second is the Owens-Thomas House, an English Regency-style mansion built in 1816.
The third Telfair Museum is located in the recently constructed Jepson Center for the Arts, an impressive example of contemporary architecture. The Jepson Center holds permanent collections of modern art, the Owens-Thomas House mainly has decorative arts, and the Telfair Academy features 19th and 20th century paintings and sculptures.
Visit the Telfair Museums to view Southern art, stroll through sculpture gardens, and browse the museum stores. The Jepson Center also has a 3,500 square foot interactive space for kids to explore art. One unique feature is the magnet wall where anyone can assemble sculptures from various common items.
The museums are open from 10 AM to 5 PM Tuesday through Saturday and 12 PM to 5 PM on Sunday and Monday. Tickets cost $20 and grant you access to all three museums.

5. Look for Apparitions on a Haunted Savannah Tour
As anyone devoted ghost-hunter will tell you, Savannah is considered to be one of the most haunted cities in the world. Much of Savannah was built atop the burial grounds of Native Americans, slaves, and colonists. The embattled city has seen war, disease, fires, gruesome murders, violent pirates, and destruction from hurricanes.
Today, one of the top things to do in Savannah, GA is to take a ghost tour. You can find a variety of ghost tours to take you around Savannah's old cemeteries, voodoo ritual sites, and haunted hotels and bars to hear the legends and history of the darker side of Savannah's past.
One of the main attractions is Bonaventure Cemetery, a Southern Gothic cemetery that sprawls over 100 acres. As you walk past elaborate burial vaults and moss-covered angel statues, you'll start to see why Savannah is considered a center of paranormal activity.
Another featured spot on Savannah ghost tours is the Mercer House, the site of the alleged murder investigated in Midnight in the Garden of Good and Evil. The nearby Marshall House is another common stop, a hotel that was used as a hospital during the Civil War and outbreaks of yellow fever. Finally, most ghost tours take you to the Moon River Brewing Company, where people swear that ghosts have flung silverware at them.
Some of the best ghost tours in Savannah are Legends of Savannah Ghost Tour, Grave Tales Ghost Tour, Beyond Good and Evil Tour, and the Dead of Night Ghost Tour. For a tour with less gravity and more craft beer, sign up for Savannah's Ghost Pub Crawl.
These spooky tours range between $10 and $14. The pub crawl costs $25.

6. Support Savannah Artists at shopSCAD
Savannah is a city filled with artists and students thanks to the renowned Savannah College of Art and Design (SCAD). You can browse students' creations at shopSCAD, a gallery retail space that curates the best creations from SCAD students out of thousands of submissions each year. The teeming shop displays new items on a daily basis.
You can find eclectic, one of a kind items, including original paintings, photography, sculptures, clothing, jewelry, and handbags. Anything you purchase goes toward supporting artists and the shop.
ShopSCAD is located at 340 Bull Street beside Madison Square.

7. Eat Southern Barbecue or Try Exotic Meats
Savannah has a lively food scene with some of the best barbecue and weirdest meats in the country. Wiley's Championship BBQ, with its menu of barbecued and smoked meats, fried pickles, okra, cornbread, and cole slaw, has won several national awards. You can find it at 4700 Highway 80. Some other great spots for barbecue are Angel's BBQ, Babe's BBW, Wall's BBW, and Johnny Harris BBQ.
If you're looking for culinary adventure, check out Alligator Soul. The ever-changing menu has featured a variety of unusual meats, including alligator, bison, elk, antelope, kangaroo, ostrich, game birds, rattlesnake, and wild boar. If you'd rather go traditional, you can find some more common meat and vegetarian options on the menu, too. This locally sourced, farm to table restaurant can be found at 114 Barnard Street in downtown Savannah.

8. Drink Chatham Artillery Punch and Other Southern Cocktails

Savannah's contribution to the world of cocktails was the Chatham Artillery Punch, a mix first concocted in the 1800s for a visiting military unit. This super-strong drink consisted of cognac, bourbon, Jamaican rum, lemon, sugar, and champagne.
The punch has weakened some since the 1800s, as David Wondrich quotes from a 1907 recipe in his book, Punch: The Delights (and Dangers) of the Flowing Bowl, "Its vigor in those days was much greater than at present, experience having taught the rising generation to modify the receipt of their forefathers to conform to the weaker constitutions of their progeny."
If you're one with a "weaker constitution," you can skip the Chatham Artillery Punch completely and enjoy another Southern cocktail, like the mint julep, sazerac, Ramos gin fizz, or brandy milk punch. These are some of the best bars for tasty cocktails in Savannah.
Sparetime – Come to Sparetime for the chic interiors with floor to ceiling windows and the rotating seasonal drink menu. Sparetime takes a modern and fresh approach to traditional cocktails, Address: 36 Martin Luther King Jr Boulevard.
Jen's & Friends – This popular spot offers over 100 specialty martinis, including blood orange, birthday cake, white chocolate, Swedish fish, and lemon drop, Address: 34 Bull Street.
Lulu's Chocolate Bar – Anyone with a sweet tooth will enjoy Lulu's decadent dessert martinis, with flavors that include salted caramel, pineapple upside down, raspberry truffle, and peanut butter cup. If you want to skip the alcohol, you can choose from a selection of cakes and cheesecakes. Address: 42 Martin Luther King Jr Boulevard.
Rocks on the Roof – This sophisticated rooftop bar sits atop the Bohemian Hotel. Sip fresh cocktails here while enjoying views over the Savannah River. Address: 102 West Bay Street.
Pinkie Master's Lounge – If you want more of a dive bar atmosphere, head to Pinkie Master's Lounge. You can drink inexpensive drinks with a mix of locals and SCAD students. Address: 306 West Upper Factors Walk.
Savannah also has a smattering of microbreweries, like Moon River Brewing Company or Southbound Brewing Company. You'll also find over 500 brews at the World of Beer, or you can head to The Distillery for a large selection of craft beers.

9. Tour Historic Mansions and Oak-Shaded Plantations
Outside of Savannah's city center sit restored historic homes and former plantations. You can take a day trip to walk the grounds, explore the stately mansions, and get a sense of 18th and 19th century life.
Wormsloe House is a mid-18th century mansion that belonged to one of the first Georgia settlers. The site, which is partly in ruins, is open to self-guided tours. One of the most impressive features of the estate is the long oak-lined drive and old stone gate at its entrance.
To tour a restored mansion with furnished period rooms, head to Rose Hill Mansion. Built in 1860, this house is an impressive example of Gothic Revival style. Outside of the home, you can explore Rose Hill's pretty grounds, which feature expansive lawns, hundred-year old trees, and a lagoon.
If you don't mind traveling a little further afield, head north to Magnolia Plantation, which sits just outside Charleston, South Carolina. This famous estate, founded in 1676, has beautiful gardens, a petting zoo, and delicate red bridges that evoke a Monet painting. Its exhibit, From Slavery to Freedom: the Magnolia Cabin Project Tour, shows visitors the cabins once occupied by slaves.

10. Hit the Beach on Tybee Island
Tybee Island has over three miles of public beach, along with salt marshes full of birds and other wildlife. You can easily access Tybee by bridge from Savannah. The island is a popular spot for swimming, fishing, and dining on fresh seafood. You can rent a deep sea charter, explore the marine science center, and enjoy a tour of the picturesque Tybee Island lighthouse at sunset.
In addition to beach-goers, Tybee Island also attracts sea turtles every year. They return annually between May and October to nest on the beaches. The Tybee Sea Turtle project protects the turtles from human interference and habitat destruction.
If you're visiting Savannah during the summer, Tybee Island can be a welcome relief from the heat and humidity. Stroll along the shoreline, shop in the glass studios and art galleries, and enjoy some crawfish or scallops at a seaside restaurant.
As the "Hostess City of the South," Savannah has lots of things to do and places to stay. Where should you call home base as you explore this atmospheric city? Read on for a few suggestions for the best hotels in Savannah, GA across all budget levels.
Where to Stay: Guide to Savannah Hotels
Where are the best places to stay in Savannah? Below are recommendations for the top 11 Savannah, GA hotels that span a range of price points, from budget to mid-range to upscale to luxury. Let's start with the least expensive hotels in Savannah, GA.
Budget Hotels in Savannah
Thunderbird Inn – This revamped motor lodge is decked out in a 1960s theme, with retro furniture (think white leather armchairs) and Moon Pies on your pillow when you arrive.
You'll get modern amenities at low rates. The Thunderbird Inn perches right on the edge of the historic district, so you have easy access to this quarter. You can also bring pets for an additional $50.
Eliza Thompson House – This 1847 mansion is filled with antiques and gilt mirrors. You can stay in the main house or find more reasonably priced rooms in the adjacent carriage house. Just be warned that the Eliza Thompson House is rumored to be haunted (but this isn't so uncommon in Savannah).
Mid-Range Hotels in Savannah
Catherine Ward House Inn – This cozy bed and breakfast is located in an 1886 home close to Forsyth Park. The antiques and gilt mirrors give the inn a historic, luxurious feel. The inn also have a relaxing garden with a fountain and koi pond.
Kehoe House – This 1890s mansion will impress you with its 14-foot ceilings and elegant fireplaces. The Kehoe House has a Victorian feel with its antiques and other ornate furnishings. The inn features a courtyard garden and a music room with a grand piano.
Mansion on Forsyth Park – This red brick mansion is filled with eccentricities, from its room bursting with antique hats to its floor-to-ceiling "water wall." The Mansion has a full-service spa, large marble pillars, and a large collection of art on the walls. You can enjoy fine dining at its in-house restaurant, 700 Drayton, and then go next-door for live jazz at Casimir's Lounge.
Upscale Hotels in Savannah
Ballastone Inn – The Ballastone Inn dates back to 1838. Its sumptuous furnishings recall the Victorian era, and most rooms have working gas fireplaces and exposed brick and beamed ceilings.
Azalea Inn and Gardens – This 1889 mansion exudes Southern charm with its slowly rotating ceiling fans and wicker furniture on outdoor verandas. You can relax by the pool in the inn's tropical gardens and easily access the nearby Forsyth Park.
Hamilton Turner Inn – This 1873 mansion overlooks the pretty Lafayette Square. Guests enjoy an afternoon reception with fine wine and hors d'oeuvres. You can also get exceptional scones in the morning from the inn's in-house bakery.
Luxury Hotels in Savannah
The Bohemian – Voted one of the top 30 hotels in the South by Conde Nast Traveler, The Bohemian offers modern luxury with 18th century style. This luxurious hotel sits beside the Savannah River.
The Gastonian – This historic inn dates back to 1868. The spacious rooms are furnished with antiques and fresh flowers, and all of them have working fireplaces. Guests enjoy complimentary wine and cheese and an afternoon tea, as well as room service.
Andaz Inn – This new, trendy hotel overlooks Ellis Square a couple blocks from the Savannah River. Expect exposed brick walls, a pool on the outdoor terrace, and farm to table dining in the Andaz Inn restaurant.
Savannah is a popular destination for both US and international travelers, so Airbnb is another increasingly popular option. You can rent a single room or entire apartment for a couple of days or weeks at a time. Whichever type of accommodation you choose, you should make your reservation well in advance.
Get ready for a romantic Southern city with history and art around every corner – and perhaps a few ghosts, as well!
Traveling to Savannah: Final Thoughts
Savannah is a city that exudes American history and Southern charm. Its urban layout is unlike that of any other city, with 22 oak-shaded squares throughout the historic center.
Savannah's well-preserved mansions and evocative streets and greenery date back to the city's beginnings. In fact, some say that Savannah surrendered immediately to General Sherman during his destructive Civil War march to the sea to protect Savannah's architecture.
Because of its efforts at preservation and restoration, Savannah is a beautiful city and one of the top tourist destinations in the U.S. When you visit, you'll enjoy Savannah's evocative atmosphere, thriving food scene, and commitment to art, creativity, and design.