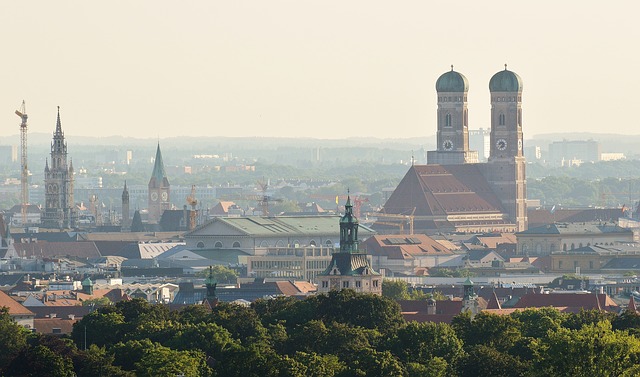 Soon after I arrived in Munich, I was eating a freshly-baked pretzel and gazing at a life-sized puppet show. Shortly after that, I watched surfers ride waves on a man-made creek. By the afternoon, I was planted in a 5000-person beer garden, already enamored with this dynamic city.
Munich is both old and new, a guardian of the past and leader into the future. As you walk the cobblestoned streets past centuries of architectural styles, you feel like you've stepped into a fairytale. At the same time, Munich thrives as a major center of business, medicine, engineering, and education.
No wonder people call Munich the "city of laptops and lederhosen." There are tons of things to do, see, learn, eat, and drink among the gorgeous red roofs of this Bavarian metropolis. Read on for the top ten Munich attractions.
Top Things to Do In Munich: Table of Contents
Here are the ten best things to do in Munich. Click on each one to learn more about it, or just scroll down for the full list!
Read on for more about each of these activities, from what you need to know to how to get there. At the end, you'll find some suggestions for your itinerary for five days in Munich. But first – puppets!

1. Watch the Rathaus-Glockenspiel Puppet Show
Seeing the Rathaus-Glockenspiel puppet show is the perfect way to start your visit to Munich. It's located in Marienplatz, Munich's central square, placing you within walking distance to just about everything in the historic center.
The glockenspiel's life-sized puppets are built into New Town Hall, a spectacular piece of Gothic Revival architecture with a richly decorated facade. Students of art history or architecture will be duly impressed, as will anyone with an appreciation for urban aesthetics.
What to Know
You can watch the Rauthaus-Glockenspiel puppet show for free every day at 11 AM. It also plays at noon and 5 PM in the summer (Munich tourism is pretty popular in the summer). As the glockenspiel chimes the hour, the elaborately decorated figures come to life to tell two stories of Munich's past. In total, the structure has 43 bells and 32 puppets.
The figures on the upper half of the glockenspiel celebrate the 1568 marriage of Duke Wilhelm V to Renata of Lorraine. The newly wedded royals are watching a joust. The white and blue knight rides for Bavaria, and the red and white knight is a foreigner. Needless to say, the Bavarian knight always knocks the other knight down.
The puppets on the bottom half spin in a traditional dance called the Schäfflertanz. The dance dates back to 1517, when people danced through the streets to raise people's spirits during the fearful time of the Great Plague. Munich hosts a large Schäfflertanz every seven years to bring good luck.
After the puppets tell both stories, a golden rooster pops forward and crows three times to signal the end of the show. The entire performance lasts only about 15 minutes, but it's a great way to start your visit to Munich and get yourself to Marienplatz.
Not only is this beautiful square smack dab in the center of the historic district, but it's also lined with cafes, shops, street performers, and buildings that represent centuries of architectural innovation.
Where to Find the Rauthaus-Glockenspiel
Marienplatz, located in the heart of Munich, is a major stop on its metro, or subway. You can take either the S train  (S1, S2, S3, S4, S6, S7, and S8) or the U-bahn (U3 and U6) to the Marienplatz stop. The exit takes you right out into the square. Once you're there, you can walk to several major Munich attractions. A bunch of the streets are pedestrian-only.

2. Sample Food at the Viktualienmarkt
After watching the puppet show and lingering around Marienplatz, I made my way to the adjacent Viktualienmarkt. This colorful food market is home to over 140 food stalls that sell fruits, vegetables, cheese, meat, fish, spices, tea, coffee, fresh smoothies and juices, crafts, flowers, and of course, beer.
The Viktualienmarkt also has a few cafes and a beer garden, so you can sit and eat or collect all the makings for a picnic at one of Munich's many parks. FYI, you can bring your own food to a beer garden, but you should order a drink if you're going to sit at a table.
What You Need to Know Before Visiting
Viktualienmarkt was originally a farmer's market that now covers an area of 240,000 square feet. With its mix of traditional and gourmet foods, the mouth-watering market is known as the Stomach of Munich.
The stalls and shops are open from Monday to Saturday, 8 AM to 8 PM, with a few closing earlier at 6 PM. The beer garden opens at 9 AM, and beer drinking starts not much later than that!
If you're there on a Sunday, everything will be boarded up and empty. Plan your shopping and sampling accordingly.
Try These Foods at the Viktualienmarkt
Big food markets like the Viktualienmarkt can come with a side of indecision if you're not sure where to land. I must have circled the market two or three times before coming up with a food strategy (and still ate and spent way too much). If you want to narrow your options to traditional German foods and some particular specialties of the Viktualienmarkt, check out my suggestions below:
Weisswurst: a German white sausage that's a popular breakfast food. It's boiled and served in cooking water. Personally, I wasn't a fan, but I'm glad I got to see what all the fuss was about. If you're going to try weisswurst, it's best to order it before noon.
Freshly-baked pretzels: these are pretty much ubiquitous. They're delicious and best with a spicy German mustard.
Cheese: there are several cheese stands in the Viktualienmarkt with all sorts of options. You might try obatzda, a Bavarian cheese, and my favorite discovery, truffle-stuffed brie.
Leberkäse: this traditional food is typically made with ground beef and pork with mustard seasoning stuffed inside a bread roll.
Ausgezogene: Bavarian donuts. Enough said.
Schmaltznudel: fried dough covered in cinnamon and sugar (yum!).
Fresh juices and smoothies: so, this one's not a Bavarian specialty, but there are several juice and smoothie stalls, and they offer a nice departure from all the meat and cheese.
Beer: of course, Munich's famous for its beer, which is always served from a cask. You'll find a great variety, but locals prefer pale beers (helles) and wheat beers (weizen). I'll give you some more suggestions for brands and breweries below.
If you find yourself in the mood for a non-fermented form of hydration, you'll be glad to hear there are drinking fountains throughout the market (and 75 throughout Munich!) where you can fill up your water bottle. These pretty fountains, along with some Renaissance-style architecture and pavilions, reminds you of how close Munich is to Italy.
Just make sure the fountain doesn't say, "Kein Trinkwasser," as that means you can't drink the water.
How to Get to the Viktualienmarkt
The Viktualienmarkt is adjacent to Marienplatz on the south side. You can take the metro to the Marienplatz stop, which will let you off in the square. If you're facing the Glockenspiel, turn right, walk out of the square, and you'll find the Viktualienmarkt on your right. The entire market is a pedestrian zone.

3. Drink German Beer
While we're on the subject of food, I might as well talk about the thing that tops many people's lists of what to do in Munich – its beer! Munich is famously home to the world's biggest beer festival, Oktoberfest, and it has a huge beer culture year-round.
Some of its breweries date back to the 13th century, and you'll see beer gardens throughout the city with enough space for thousands of people to sit at communal tables and drink.
The largest Munich breweries are Augustiner, Hofbräu, Paulaner, Hacker-Pschorr, Löwenbräu, Spaten and Franziskaner. Beyond these major players, you can also find smaller craft beer breweries, though they struggle to survive in the shadow of the giants.
Below are my suggestions for the best brew houses and beer gardens, but honestly, you can't go wrong if you're looking for good beer in Munich.
Where to Go for Beer
These are some of the top beer halls in Munich. Most of them make their own brews.
Augustiner Keller: Augustiner is a huge beer hall and beer garden in central Munich where you can try the various Augustiner brews. It serves decent food and despite the huge size, feels cozy with its warm, wooden interior.
Königlicher Hirschgarten: Of all the huge beer gardens in Munich, Koniglicher Hirschgarten is the biggest. It can hold 8,000 people! The tables are outdoors, so come here in the warm seasons. Going along with its chosen theme of larger-than-life, Koniglicher serves huge portions of food and massive beers.
Zum Flacher: This beer hall is a little more off the beaten track. Sweetly situated beside the Isar River, it has high quality food, huge beers (that's a given), and frequent oompah music from a live band.
Paulaner Brauhaus: If you're a fan of Paulaners, you can go straight to the source in this huge beer hall. Before choosing a table, spend time admiring the interior's vaulted ceilings, ornate windows, and huge indoor pillars. This brewhouse falls on the touristy side of things, with the waitstaff clad in lederhosen.
Max Emanuel Brauerei: Also known as MaxE, this beer garden is close to Munich University. It has good prices, is popular with students, and often has a young, international crowd.
Hofbrauhaus: Hofbrauhaus often tops the list of Munich breweries, since it's the "Royal Brewery" owned by the Bavarian state government. It was founded in 1859 by the Duke of Bavaria, Wilhelm V (you might remember his recently married puppet from the Glockenspiel show).
Hofbrauhaus has upstairs, downstairs, and outdoor seating. There's usually a traditional band on the first floor. The interiors are beautiful, but I found the whole thing too tourist-ified for my taste, and the food, while fine, was nothing to write home about. Go here if you're in the area and want to see this famous spot with your own eyes (and buy souvenirs at the downstairs gift shop). Look elsewhere for a more authentic experience and better food.
How to Get to the Breweries
Here's a map with all the brewhouses on the list above. Click on each one for its specific address.
4. Check Out the Churches
Now that we've gone over the vital subject of "viktuals," let's talk culture. There are some gorgeous churches throughout the old city that represent centuries of art and architecture. If you like beautiful buildings, then these churches are great places to see in Munich.
The main ones are Gothic, Renaissance, Baroque, and Rococo. While most got destroyed to a lesser or greater degree during World War II, they were beautifully restored to their original styles. Because of the collection of artwork and sculptures within the churches, they're basically free museums.
Three must-see churches in the historic center are Alter Peter (Church of St. Peter), Asamkirche (Asam Church) and Frauenkirche (Cathedral of Our Dear Lady). Read on for more about these three churches and where exactly to find them.
See These 3 Churches
Alter Peter: Alter Peter, which literally translates to Old Peter, is the oldest parish church in Munich. It has been expanded and rebuilt in its location since the 11th century. Since Munich was founded in 1158, historians believe that Alter Peter was the starting point for the entire city.
Much of this church was destroyed during World War II, but it was rebuilt after and much of the original artwork remains. Old Peter features a mix of architectural styles. It was originally Gothic in style, with a Renaissance steeple top, Baroque choir, and interior Rococo details later added.
Inside, you'll see gorgeous ceiling frescoes, 15th century sculptures, and Gothic paintings. For a small fee of 2 to 3 euros, you can also climb the attached tower and get panoramic views of Munich. On one side, you'll look down into Marienplatz from a viewpoint higher than the Glockenspiel puppets. The narrow staircase up the tower has about 300 steps.
Asamkirche: This church was built between 1733 and 1746. Like Alter Peter, it was damaged in WWII and later restored to its original style. It's a classic example of Rococo architecture and interior design. The ceiling fresco, called the Life of Saint Nepomuk, is considered a masterpiece. You'll see some Italian influences in the church, as the two brothers who restored it were artists (a sculptor and painter) who studied in Rome.
Frauenkirche: You can see the two towers of Frauenkirche from just about anywhere in the city. The city administration prohibits the building of any structures 99 meters or taller in the city center. While most of the church is Gothic, the domes atop these towers are Renaissance in style. The original design of the church wasn't fully implemented because the builders ran out of money (whoops).
This landmark serves as the cathedral of the Archdiocese of Munich. As an example of late Gothic style architecture, the interior looks spare in comparison to that of Alter Peter and Asamkirche. It's incredibly tall, and you'll feel ant-sized walking under the arched ceilings and beside the long stained glass windows. In fact, it's one of the largest hall churches in Germany.
Beside admiring the church's interior, look for a black mark outside the entrance called the Teufelstritt, or Devil's footsteps. There are various legends about this mark, most of them overlapping in saying that the Devil appeared at the church's doorstep when it was first built.
How to Get There
All three churches are located within a few block radius of Marienplatz. Here are their addresses and locations on the map.
Alter Peter: Rindermarkt 1, adjacent to Marienplatz
Asamkirche:  Sendlinger Str. 32, a 5-7 walk from Marienplatz down Rindermarkt
Frauenkirche: Frauenplatz 12, a 4-minute walk from Marienplatz down Kaufingerstrasse. Again, you can't miss seeing the towers from most spots in the old city and beyond!
5. Stroll Through the Englischer Garten
The Englischer Garten, or English Garden, is a huge, beautiful park in downtown Munich styled after the popular British landscape of the 18th and 19th centuries. At 1.4 square miles, it's even bigger than Central Park in NYC!
As you plan what to see in Munich, remember that the English garden is a great place to walk or bike on a warm day. You'll see people relaxing or playing sports on the expansive fields, as well as the occasional nude sunbather. You can also stop for refreshments at a Japanese teahouse or the beer garden beside a 82-foot Chinese tower.
Here's what you need to know about each of the key Munich attractions in the English garden – including, of course, the river surfing!
Where to Go
Eisbach Creek: Flowing swiftly through the park is the 2-km long Eisbach Creek. It's a popular spot for swimming, or rather, a popular spot to jump in and get carried downstream by the fast current. There's an area where the water calms down and you can climb out and do it all over again.
At the top of the creek is the famous artificial wave where people line up with their boards to surf. I really didn't know how to picture "river surfing" until I saw it in person. This fast, narrow wave is only for experienced surfers.
Japanese Teahouse: This teahouse sits on an island in a pond and holds regular Japanese tea ceremonies. It was created in 1972 to celebrate the Summer Olympics held in Munich.
Chinesischer Turm (Chinese Tower): This 82-foot tall tower was built in 1789 and based on the pagodas in the gardens of the Chinese emperor. It was destroyed in WWII and rebuilt in 1952.
Beer Garden: The outdoor beer garden at the Chinese Tower is the second largest beer garden in Munich. It's mainly self-service; you go up to stalls and order beer and snacks to bring back to your table.
How to Get There
The English Garden starts in the city center and stretches to the northeastern city limits. It's a short walk from the city center, or you can take the metro to Universität, Giselastrasse or Münchner Freiheit.

6. Admire Art at World-Class Museums
Munich is home to over 80 museums and art galleries, far more than you could see in a short stay. Not only do they feature impressive collections of world-class art, but many are housed in grand buildings with impressive columns and facades. Below are the top Munich museums for those interested in classical and contemporary art, technology, or cars.
Where to Go
Residenz Museum: This museum is part of Munich Residenz, the royal Bavarian palace. You could spend several days exploring its vast halls. One highlight is the Antiquarium, a huge vaulted hall line by statues. You'll also see many paintings of Bavarian towns and rulers, as well as a collection of German and Austrian porcelain.
Old Picture Gallery (Alte Pinakothek): This huge Renaissance style building houses over 800 great works of European art. You'll find great 16th and 17th century Dutch paintings, medieval German paintings, and Italian Renaissance works.
New Picture Gallery (Neue Pinakothek): By "new," they mean 19th century. You'll find great works by artists like Manet, Cezanne, Gauguin, Monet, and van Gogh.
State Gallery of Modern Art (Pinakothek der Moderne): The State Gallery features a mix of classical and contemporary artwork. The majority of the artists are German with some works thrown in by artists from France, Spain, and the USA.
Deutsches Museum: This cutting-edge technology museum has lots of interactive exhibits showing the development of German aircraft, bicycles, cars, ships, trains, and musical instruments. It also hosts frequent concerts.
BMW Welt and Museum: This futuristic building looks like a giant metal bowl. If you're into BMWs, come here to learn about the cars' development from the first vehicles in the 1920s to current models, watch demonstrations about how the cars are put together, and gain insight into future designs.
How to Get There
Click on each spot on the map below to find the museum's specific address!
7. Visit the Nymphenburg Palace
The Nymphenburg Palace is an intensely lavish Baroque palace built in 1664. It was the summer residence of the rulers of Bavaria. With its opulent interior and sprawling manicured gardens, this palace represents one of the reasons I love Munich and visiting historic European cities in general.
If you're an admirer of Baroque, Rococo, Neoclassical architecture or just like to pretend you're a 17th century royal, then you should check out this over-the-top palace and its gorgeous grounds.
What to See
After spending some time admiring the 700-meter wide incredibly detailed Baroque facade of the palace, head inside to see…
Steinerner Staal (Stone Hall): This impressive grand hall is part of the central pavilion. You'll wander about staring up at the vaulted ceilings covered in early 18th century frescoes.
Royal apartments: The palace has over 130 furnished apartments that show you how the royals lived. The walls are full of portraits of various Bavarian rulers.
Gallery of Beauties: This gallery consists of 36 portraits painted between 1827 and 1850. Ludwig I commissioned his court painter to paint women of various social classes. The most famous ones are that of an actress, a shoemaker's daughter, and the king's Irish mistresses.
Carriage Museum: This part of the palace has a large collection of carriages, many of which were used for important events like coronations in the 18th century.
Spiegelsaal: This is a Hall of Mirrors decorated with crystal and gilt.
Gardens: The sprawling royal gardens are reminiscent of the gardens of Versailles. They cover 490 acres and contain canals, marble statues of Greek gods, and several pavilions.
Cost of Admission to Nymphenburg Palace
Between April 1 and October 15, a regular ticket costs 11.50 euros. Between October 16 and March 31, a regular ticket 8.50 euros. These combined tickets let you visit the palace, the Marstallmuseum (with the carriages and sleighs), the Museum of Nymphenburg Porcelain, and the park palaces.
If you only want access to the Nymphenburg Palace, then the ticket is just 6 euros. Keep in mind that in winter, the park palaces are closed.
How to Get to the Palace
The Nymphenburg Palace is located at Schloß Nymphenburg 1, 80638 Munich. From Marienplatz, you can take the S1, S2, S3, S4, S6, or S8 metro train to the stop, München-Laim and walk about 20 minutes or take a taxi from there.

8. Spend a Night at the Theater
Munich was home or host to famous composers, like Mozart and Wagner, throughout its history and it continues to have a thriving theater, opera, and classical music scene. You can buy tickets for a glamorous night out at the Bavarian State Opera or Bavarian State Orchestra.
Where to Go
Nationaltheater: The Nationaltheater is considered one of the world's best opera houses and is home to the Bavarian State Opera. Rebuilt after WWI, the theater's Neoclassical architecture is reminiscent of Greek temple. In addition to its frequent performances of opera and classical music, the Nationaltheater hosts an opera festival every summer.
Residenztheater: Here, you can visit the famous Rococo Cuvillies Theater, built in 1755, tiered boxes. It hosts both operas from the Baroque period and modern plays.
Staatstheater am Gärtnerplatz: This smaller theater puts on alternative productions of operas and musicals. While the other theaters require advance reservations, you can usually find less expensive tickets more last minute for a show here.
Abraham Putoor/Flickr
How to Get to the Theaters
Here are the addresses of each theater, along with the closest metro stops.
Nationaltheater: Max-Joseph-Platz 2, 80539. Walk from metro stops, Marienplatz or Odeonsplatz.
Residenztheater: Max-Joseph-Platz 1, 80539. Walk from metro stops, Marienplatz or Odeonsplatz.
Staatstheater am Gärtnerplatz: Gärtnerplatz 3, 80469. Walk from metro stops, Marienplatz or Fraunhoferstrasse.
9. Go Ziplining at Olympiapark
Munich hosted the summer Olympics in 1972. It built Olympiapark on land that was formerly the training ground for the Royal Bavarian Army.
Today, you can visit for concerts, festivals, restaurants, great views, and recreational activities. Below are some of the top things to do at Olympiapark in Munich.
What to Know about Olympiapark
As a big recreational center, Olympiapark is now used to host concerts and events. One popular one is the yearly Tollwood Festival, with music, theater performances, food stalls, and markets.
If you're cool with heights, you can climb atop the stadium roof, go zip lining, or simply go up to a number of viewpoints to enjoy 360 views of Munich and the surrounding Alps.
You can also visit a revolving restaurant in the Aussichtskorb, one of two pods at the top of the television tower. Even if you're not eating, you can go up to its observation decks for the spectacular views.
Where to Find Olympiapark
Olympiapark is located at Spiridon-Louis-Ring 21, 80809 in Munich.
You can access Olympiapark on subway line U1 from these metro stops: Westfriedhof, Georg-Brauchle-Ring, and Olympia-Einkaufzentrum (OEZ). This train runs from Munich Central Station.
You can also take the U3 line to Petuelring, Olympiazentrum, Oberwiesenfeld to Olympia-Einkaufszentrum. The U3 runs from Marienplatz.

10. Take a Day Trip to Neuschwanstein Castle
Does this fairytale castle remind you a Disney movie? As it turns out, Neuschwanstein Castle served as the inspiration for the castle in Beauty and the Beast!
The real story behind this Romanesque Revival castle doesn't have a happy ending, though. It was built by the reclusive king, Ludwig II of Bavaria, in 1864. He wanted it to be a retreat and sought to create a dream-like world of medieval legend.
Unfortunately, Ludwig II only got to live in the castle for 172 days before he was declared insane and taken from the castle. Shortly after, both Ludwig's and his doctor's bodies were found in a nearby lake. The causes of their deaths remain a mystery.
The castle, which was one of the last of its kind to be built in Germany, is open to visitors and is located about one and a half to two hours from Munich.
What to See
Visitors of Neuschwanstein Castle go on guided tours through the rooms that were finished before Ludwig's death. The tickets are 12 euros or free for those under 18. On the tour, you'll see a mix of mainly Romanesque, Gothic, and Byzantine art and architecture. The most notable rooms include,
Hall of the Singers: This hall is largest room and one of Ludwig's favorite projects. It was meant to celebrate the Middle Ages with its representations of knights and medieval love stories.
Throne Hall: This church-like hall, inspired by Byzantine churches, reflected Ludwig's view of himself as a mediator between God and the people. It has a massive chandelier, but no throne. Ludwig's plan to build a throne was never realized.
Drawing room, dining room, study, and bedroom: These finished rooms feature sumptuous decorations and intricately carved wood ceilings and columns. They give a glimpse into how Ludwig lived and how he wanted to finish out his days at Neuschwanstein Castle.
How to Get to Neuschwanstein Castle
Neuschwanstein Castle perches atop a hill above the village of Hohenschwangau, near Füssen. Before going to the castle, you must buy tickets at the ticket office in Hohenschwangau.
To get to Hohenschwangau, take the train from Munich HBF to Fussen. Then you'll hop on bus 78. Since the castle's a popular spot, you should be able to easily follow the flow of visitors from the train to the bus.
Once you've got your ticket, you can walk, take a shuttle bus, or go with a horse and carriage up the hill to the castle. The steep walk is about 40 minutes. The bus is 2.60 euros round trips, and the horse and carriage is 6 euros uphill and 3 euros downhill.
Now that you have a sense of the top ten things to do in Munich, let's put them all together into one possible itinerary. Read on to plan five amazing days in the capital of Bavaria.
Five Days in Munich: Suggested Itinerary
Day 1: Fly into Munich Airport. You can also take a bus or a train from major cities like Berlin. I took a bus – it was a long ride, but otherwise comfortable enough.
If you'll be taking the metro to get around, I'd suggest buying a 1 or 3-day inner zone ticket. You can buy a single ticket just for yourself or a group ticket. Here are the prices:
Single-day single ticket: 6.40 euros
Three-day single ticket: 16 euros
Single-day group ticket: 12.20 euros
Three-day group ticket: 28.20 euros
Depending on what time you get to Munich, I'd suggest heading into the historic center (eg, Marienplatz) to get your first look at this beautiful district. Walk around, get your bearings, and get dinner and a Bavarian brew at one of the above recommended brewhouses.
Day 2: Head to Marienplatz in the center of old Munich. Early risers can head to Viktualienmarkt for breakfast; late risers can go straight to the 11 AM Rathaus-Glockenspiel puppet show (guess which one I was). After eating and watching puppets, spend some time seeing the Munich attractions in the center, particularly the three nearby churches. If the weather's nice, spend the afternoon in the English Garden before ending the day in a Bavarian beer garden.
Day 3: Visit the Nymphenburg palace and spend hours getting lost in its vaulted halls, galleries, and royal gardens. Go see a German opera, concert, or play in the evening.
Day 4: Take a day trip to Neuschwanstein Castle. You'll take the train to Fussen, buy your tickets in the village of Hohenschwangau, and then spend the day touring the dreamy project of the strange and tragic king.
Day 5: Spend the day visiting world-class Munich museums. Admire art, learn about technology, or discover the car of the future at BMW Welt.
Traveling to Munich: Final Tips
There are lots of places to see and things to do in beautiful old Munich, and you can shape your trip around any of its cultural, natural, or culinary offerings. I was blown away by the old district because of its historic, fairytale-like feel, but Munich also has lots of new, exciting things going on, too. You can hopscotch from past to present as you make your way around the city.
If you're a fan of art history and architecture, then Munich may be the paradise you were looking for with its mix of Gothic, Renaissance, Baroque, Rococo, Neoclassical, Romanesque Revival structures. If you want to escape somewhere green, then you'll love walking and swimming in the English garden, meandering through parks and palace gardens, or traveling out to the nearby Bavarian alps.
From my time there, I saw that Munich was a city that valued history, beauty, and pleasure. Whether I was sampling at the Viktualienmarkt, admiring 19th century paintings, or sitting in one of the many outdoor cafes or beer gardens, I felt like Munich was a city where I could easily live. Anywhere that installs beer gardens for thousands or a swimming creek in the middle of a city is a place that wants people to enjoy a high quality of life!