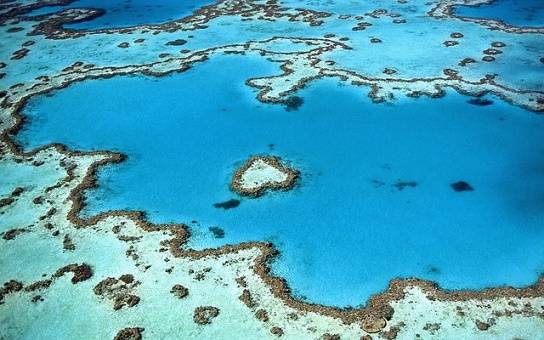 Swimming through coral forests, coming face-to-face with a sea turtle, relaxing on powdery white beaches, being surrounded by schools of neon-colored fish: you can do all of these at the Great Barrier Reef, one of the great natural sites of the world. The awe-inspiring reef stretches roughly 1,250 miles from north to south, contains nearly 3,000 individual reefs and hundreds of islands, is home to thousands of species of coral, plants, and animals, and covers an area roughly the size of Italy.
With so much to see, where should you base yourself? There are numerous cities and towns along Australia's northeastern coast that serve as jumping-off points for exploring the Great Barrier Reef, and each offers something different. This guide explains the pros and cons of four of the reef's best bases.
For each base, tour prices, marine life, and options for other activities in the area are ranked from 1-3 stars. Tour Prices refer to what you can expect to pay for a reef tour, with three stars indicating the cheapest tours and one star indicating the most expensive (all prices mentioned below are in Australian dollars). Marine Life refers to how much coral and aquatic life you can expect to see under the water and how diverse it'll be. Bases with three stars generally have the most pristine and abundant marine life, while lower rankings indicate some degradation and/or sparseness of marine species. Don't think a low ranking means you'll be swimming through an underwater desert though; you'll see interesting things on any tour.
Finally, it's also important to enjoy yourself before and after your reef tours, so Options for Other Activities are also ranked. More stars in this category means you have a wider variety of things to do nearby when you're not on the reef.
Below the star rankings, the base itself, what reef tours generally offer and where they go, and options for nearby activities are explained in more detail. Knowing this information will help you choose a base that fits your interests and budget, helping you have the best Great Barrier Reef trip possible. At the end of this guide is additional logistical information to help you plan your trip after you've decided on a base.
Cairns
Tour Prices:  
Marine Life: 
Options for Other Activities: 
The Base
The most popular base for visiting the Great Barrier Reef is the city of Cairns, and, as such, it's here that you'll find the widest variety of reef tours and tour operators. Cairns is a lively city that has decades of experience as a top tourist destination. Some visitors will appreciate all the amenities and activities Cairns has to offer, while others might be turned off by the proliferation of backpacker bars, tattoo parlors, and souvenir shops. Cairns is definitely a place that knows how to make the most out of its popularity with tourists.
There's a wide variety of accommodation here, ranging from hostels to exclusive resorts, but most places are moderately-priced hotels. Despite its commercialism, Cairns is still an enjoyable place to visit and offers travelers plenty to do both in and out of the water.
The Reef and Reef Tours
Cairns is the city closest to the reef, so trips out to the reef here are shorter than those from many other bases. Tours go to a variety of spots, but two of the reefs closest to Cairns are Arlington Reef and Sudbury Reef. Because Cairns is the most popular base for the Great Barrier Reef, many of the reefs around it are heavily visited, and some of the reefs, particularly those closest to the mainland, have suffered significant degradation as a result.
There will still be things to see, but the coral may be sparse, and there may not be as much marine life as in other places. However, this depends significantly on which reef or reefs your tour visits. Because Cairns is the main jumping-off point for the Great Barrier Reef, there are tours catering to all budgets, and if you're willing to spend the money, you can get high-end tour experiences similar to those at other bases in this guide.
However, the majority of the Great Barrier Reef tours in Cairns cater to budget travelers and backpackers. This means you'll find the cheapest reef tours here, starting at about $100. These tours often have larger groups and visit 1-2 reef sites during the day.
Additional Activities
As one of Australia's top tourist destinations, there are lots of things to do in Cairns. The Cairns Lagoon, a pool and artificial beach close to the ocean, is a popular spot for all travelers, as are the lush Cairns Botanic Gardens and the Esplanade Boardwalk winding along the edge of the water. For families with children, Cairns has playgrounds, water parks, and nearby Trinity Beach to keep them occupied.
You'll also find bike tours, hiking, whale watching tours, jetskiing, waterfalls, rafting tours, markets and several museums and galleries nearby. Cairns has probably the best nightlife scene on the coast and numerous bars and restaurants that cater to all tastes and budgets.
A popular day trip from Cairns is traveling to Kuranda. Visitors can take the spectacular Kuranda Scenic Railway over treetops and past waterfalls to reach Kuranda, a cute village in the rainforest. At Kuranda there are several animal parks, a butterfly sanctuary, hiking trails, shopping opportunities, riverboat tours, and numerous restaurants and ice cream shops.
Port Douglas
Tour Prices:
Marine Life: 
Options for Other Activities: 
The Base
Another popular base for the Great Barrier Reef, Port Douglas is like Cairn's richer and more sophisticated cousin. There's still fun both day and night to be had, but, in general, Port Douglas caters to a somewhat older and wealthier crowd than Cairns does, and it's a favorite destination for celebrities. As a result, accommodation and dining prices are about 25%-50% higher than what you'll find in other areas.
The vibe in Port Douglas is quieter and more relaxed than many other towns along the coast. The town has a few small museums and buildings of interest, an excellent market on Sunday mornings with homemade food and handicrafts, and is home to Wildlife Habitat Port Douglas where visitors can witness an alligator feeding show, view numerous Australian animals, and take a photo cuddling a koala. Four Mile Beach is the major beach in town, and it'll do the job if you just need a place to splash around, but it's definitely not one of the standout beaches in the area. The waves are often rough, the water is not very clear, and the sand is somewhat rocky and strewn with seaweed.
The Reef and Reef Tours
Day tours in Port Douglas tend to be more expensive than those in Cairns, Airlie Beach, and Townsville, but they are often higher-quality, going to the outer reef, visiting several reef sites, and having smaller boats with fewer people on board. Expect to pay over $200 for snorkeling and at least $300 for diving. Prices can be twice these amounts for the highest-end companies. A few of the biggest tour companies basing themselves in Port Douglas are Quicksilver, Wavelength, and Poseidon.
Popular reef spots tours visit from Port Douglas include Agincourt Ribbon Reef, Opal Reef, St. Crispin Reef, and Tongue Reef, all located in the outer reef. While there is coral bleaching in this area, the coral is, generally still vibrant and diverse. Swimmers will often find themselves exploring massive coral forests while parrotfish, clownfish, damselfish swim nearby. This part of the reef also has some of the best opportunities for spotting mega fauna like sharks, rays, and sea turtles.
Additional Activities
While people who like to keep active may not find enough to do within Port Douglas, a short drive from town are some of Queensland's most popular attractions including the Daintree Rainforest, Cape Tribulation, and Mossman Gorge. These three sites are within Daintree National Park and can all be visited in a day (with a guide or on your own), although many people enjoy the seclusion and nature they offer and choose to stay longer.
The Daintree Rainforest is one of the last homes of the massive cassowary, an endangered Australian bird related to the ostrich and emu. There's a boardwalk through the forest and other walking trails. Cape Tribulation is a remote and attractive beach where Captain Cook once ran aground, while Mossman Gorge is an important Aboriginal site where visitors can explore the rainforest and wade in the Mossman River.
There's a huge amount of biodiversity in this part of Queensland, and spending the day in some of the area's top natural spots on land can be a good change of pace from all the time you've spent in the water.
Townsville
Tour Prices:  
Marine Life: 
Options for Other Activities: 
The Base
Townsville is one of the largest cities in the area, and it's often considered the unofficial capital of North Queensland. Due to its size and the number of administrative buildings located within it, Townsville lacks a lot of the charm and atmosphere of other towns along the coast, and it can often feel like you're in any generic large city.
However, Townsville's not all business, and visitors to the city can still find hiking trails, animal sanctuaries, and museums to enjoy. These are discussed in more detail in the "Additional Activities" section. Also, Townsville's size means it has numerous amenities for travelers, although the city is more focused on local business than catering to tourists.
The Reef and Reef Tours
While the other bases in this guide are equally suitable for both snorkelers and divers, Townsville is most popular for its Great Barrier Reef diving opportunities. The main reason people do reef tours from here is because of the wreck of the SS Yongala, a large passenger ship which sank off the coast in 1911.
Today the site, a three-hour boat ride from Townsville, is often described as the best wreck dive site in the world, and it is visited by over 10,000 divers each year. As one of the largest historic shipwrecks, there is a lot to explore here. Large species often frequent the site, including sharks, grouper, sea snakes, and barracuda. Because of potential dangers associated with wreck diving, only experienced divers can visit the Yongala site.
However, Townsville has options novice divers and Great Barrier Reef snorkeling as well. Nearby are several reefs, including Lodestone Reef, Wheeler Reef, and Kelso Reef. These areas typically have numerous coral species and good visibility. Be aware that Townsville is farther from the Great Barrier Reef than both Cairns and Port Douglas, so it will take longer to get to the reefs, even those closest to shore.
Magnetic Island is another popular place for diving from Townsville. There are day trips available, or you can choose to spend several days on the island. There are multiple dive sites around Magnetic Island, and because its waters are generally calm and shallow, it's a popular place to take diving classes. Tour prices in Townsville are slightly higher than those in Cairns and about what you'd pay in Port Douglas.
Additional Activities
When you're not on the water, Townsville has multiple attractions to fill your time. For those who want to see wildlife, the Reef HQ Great Barrier Reef Aquarium and the Billabong Sanctuary are two top places to get up-close with animals. Townsville is home to numerous museums, including the Museum of Tropical Queensland, the Army Museum of North Queensland, and the Perc Tucker Regional Gallery.
Townsville also has great walking and hiking opportunities, many of which include viewpoints over the town and coast. The Strand, Castle Hill, and Mount Stuart are some of the most popular.
Airlie Beach
Tour Prices:  
Marine Life: 
Options for Other Activities: 
The Base
Little Airlie Beach, with a population of less than 10,00, is the most southerly base listed in this guide, about a seven-hour drive or a one-hour flight from Cairns. Airlie Beach has primarily been a backpackers' destination with little more than a few hostels and beach bungalows. However, as its fame increases, the town has become home to more upscale cafes, shops, and hotels.
Because it is not as heavily visited as Cairns or Port Douglas, Airlie Beach has a more laid-back atmosphere, with many people content to relax on the beach when they're not touring the reef.
The Reef and Reef Tours
It's possible to do traditional day tours to the reef from Airlie Beach, but most people who visit the Great Barrier Reef from here do so on a several day live-aboard tour of the gorgeous Whitsunday Islands. This collection of over 70 islands is covered with powdery sand and palm trees, and it has some of the most pristine coral in the Great Barrier Reef. The reefs surrounding the islands are called fringing reefs, and they are particularly known for their vibrant soft coral species. Turtles and whales are also frequent visitors to the reefs surrounding the islands. The best spots for diving are in the outer islands of the Whitsundays, particularly Hook, Hayman, and Langford islands.
During these live-aboard trips, which are often 2-3 days but can be longer, guests will overnight in boat cabins or a room on one of the islands (you can also travel directly to the islands and stay there). During the day, there are typically several dives as well as time for exploring the islands. Some tours also include additional activities like sailing, which is a popular activity in the Whitsundays.
Live-aboards also offer the chance for night dives. These dives can give you the chance to see a lot of marine life that isn't active the day, including many types of sharks and other large fish species. However, be aware that, although you'll have headlights, some people find swimming in near darkness to be disorienting and unsettling. Live-aboards are generally the most expensive reef tours; expect to pay at least $500 for a two-day trip, with some tours costing significantly more.
Additional Activities
Beyond reef tours you'll find a couple other things to do in Airlie, such as helicopter tours, hiking (the town is close to jungly Conway National Park), and a water park, but, in general, Airlie is famous for one thing: the gorgeous beaches, considered some of the best in Australia. In town, manmade Airlie Beach Lagoon is a pretty stretch of sand, dotted with palm trees and grassy spots perfect for picnics or relaxing.
On Whitsunday Island, Whitehaven Beach is a standout in a country known for its beaches. Almost all tours to the Whitsunday Islands visit this stunner, with gleaming white sand mingling with swirls of tropical blue water. Additionally, because Airlie Beach is still a popular spot for young backpackers, there's always something going on in the evenings at the local bars and pubs.
When's the Best Time to Visit the Great Barrier Reef?
The Great Barrier Reef can be visited any time of the year. However, the weather is best between June and August, when it's Australia's winter. During these months the water is clearest and the chance of rain is lowest. Try to avoid Queensland's rainy season from January to March when visibility is lower, the days can be gloomy, and the chances of cyclones are highest.
Stinger season, when large numbers of jellyfish come to the waters around the reef, is typically from November through May. During this time, you'll often have to wear a stinger suit to protect yourself from jellyfish tentacles. This is not a big deal, though; the stinger suit is a lot like a wetsuit and wearing it won't be too cumbersome or uncomfortable. It's also important to keep in mind that, even during the height of stinger season, the chances of getting stung are still low, and your tour operator will have supplies on board to treat any stings.
How Do You Get to These Bases?
Cairns and Port Douglas are closest to Cairns Airport. The city of Cairns is a short drive away, and Port Douglas can be reached by frequent buses and taxis that make the one-hour drive throughout the day. Townsville is served by Townsville Airport, a few miles from the city.
Airlie Beach can be reached by Proserpine Airport or Hamilton Airport. From Proserpine, there are regular bus and taxi connections to Airlie Beach. From Hamilton Airport, which is on Hamilton Island in the Whitsundays, it's a 50-minute ferry ride to Airlie. Because these are both smaller airports, flights can be less frequent and more expensive, so many people opt to drive or take a long-haul bus from Cairns or Brisbane to Airlie. Buses run daily, and the trip takes about 11 hours from Cairns or 20 hours from Brisbane. Driving will likely get you there a few hours sooner because you won't be making as many stops as the buses.
Once you get to your base, there are numerous buses and ferries to help you get around the area. Many tour companies offer hotel-pickup and drop-off on the day of your reef tour, although some charge extra for this service.
How Can You Choose the Best Great Barrier Reef Tour?
The Great Barrier Reef tourism market is saturated with tours, each of them claiming to be the best on the reef. Even after you've winnowed down your choice for a base, you'll still have to choose between a multitude of tour operators. Ask these questions before you book a trip:
What's the Cost of the Tour? What Does That Include?
For many Great Barrier Reef tours, you get what you pay for. Higher-priced tours will typically have fewer people and go to more distant parts of the reef, but it's always smart to compare the cost of different tours with what you'll be getting. Also make sure to ask what the price includes. Many things, like snorkel or dive gear, should be included, but you may have to pay extra for the Great Barrier Reef Tax ($6.50), extra food and beverages, seasickness pills, and photos from the day.
How Many People Will Be on the Tour?
How many people will you be sharing the boat and that part of the reef with? Great Barrier Reef tours typically range from 10 to over 100 people, but some especially large operators have a couple hundred people in the water at a time. Having a lot of people in the water with you can make it difficult to swim and scare away the marine life.
Which Parts of the Reef Will You Visit?
Tourism, development, and climate change have all taken a toll on the Great Barrier Reef, and some parts are in much better shape than others. The outer reef sites (those farthest from the coast) are often healthier, larger, and more vibrant because they see fewer tourists. Some heavily-visited reefs close to shore have suffered serious coral bleaching and death, and, unfortunately, aren't very interesting to view.
Many operators wait until the day of the tour to choose which exact sites they'll be visiting based on the weather, but you should still be able to find out which reefs the company visits most often and where those reefs are. Additionally, if you're prone to seasickness, you may want to visit a reef closer to shore to minimize travel time. There are numerous inner reef sites in good condition, so just make sure to do some online research on the health of the reefs after you get this information from the tour operator.
How Many Other Tours Will Be There?
Some of the higher-end operators have exclusive access to certain parts of the reef, while others share spots with many other tours. Ask how many other tours and people you can expect at the sites that tour will be visiting.
How Many Dive Sites Will There Be?
Many Great Barrier Reef tours will visit one site on the reef and spend the entire day there, while others will visit two or three sites, or even more if you're doing an overnight tour. Some parts of the reef are large enough to justify spending an entire day at them, and you may prefer this option if you want to minimize travel time. However, if you want to see diverse parts of the reef, a tour that stops at several different places may be more enjoyable.
How Long Will You Spend in the Water?
The tour departure and return times may make it seem like you're out on the water all day, but a lot of your time could be eaten up by traveling to the reef, going over safety information, getting people organized, and breaking for meals. Get specifics on how long you can expect to actually be in the water.
5 Things to Know Before You Visit the Great Barrier Reef
While it's possible to sign up for a reef tour heading out the next day, you'll have more options and peace of mind if you book several weeks beforehand. The most popular operators can get booked well in advance, especially during Australian school holidays when Great Barrier Reef holidays are extremely popular.
If you're prone to seasickness (or think you might be), take sea sickness pills several hours before you get on the water. You can purchase medication before you leave for Australia, or you can purchase prescription or over-the-counter seasickness pills at any major pharmacy in Queensland.
If you'd like pictures from your reef trip, you may want to purchase a disposable underwater camera. These are available at many tourist shops. There are also companies, mostly in Cairns, that rent underwater digital cameras by the day. Renting one costs about twice as much as buying a disposable camera, but they have higher image quality. You can also rent or buy a waterproof case for your own digital camera from many of these shops.
If you don't want to take pictures but still want some memories of what you saw in the reef, many reef companies have an employee taking pictures throughout the day. You can purchase a digital collection of these photos at the end of your trip.
Always be aware of where your body is in relation to the reef. This is particularly true when you're swimming in shallow water because the reef can be within a few inches (or less) of your kicking feet. Hitting the reef not only damages it, it can also be very painful and leave nasty cuts and bruises.