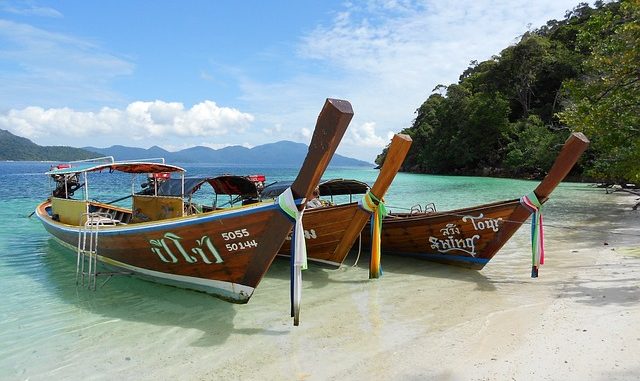 Are you planning a trip to Thailand? Not sure which island to visit? Thailand's islands are legendary, and there are hundreds to choose from. There are islands for honeymooners looking for a romantic getaway, islands with world-class diving opportunities, islands covered with miles of jungle, and island after island home to some of the best beaches you'll ever see. There are so many options that choosing which island to visit can be difficult.
This is your vacation, so you shouldn't be working hard! Luckily, we're here to help you out. Take our quiz to get an idea of which Thai island is the best choice for you. Then, check out descriptions of each of the eight islands in the quiz to review all your options and see what each island has to offer. And remember, you don't have to visit just one, so at the bottom of the guide we've included information on how to visit multiple islands.
Koh Chang: The Remote All-Around Island
Koh Chang has what you want. Are you looking for diving or snorkeling opportunities? Koh Chang has abundant reefs with shallow waters that make it particularly easy to get a close view of the coral and marine life. Want exciting nightlife? Koh Chang's Lonely Beach hosts some of the wildest parties outside of Koh Pha-Ngan. Beaches? They're everywhere, with the best clustered on the west coast (where most of the development is as well). Rainforest? The interior's dripping with it, and taking part in the popular hiking scene can lead you to waterfalls, over rugged peaks, and even to elephant camps where you can interact with some of the animals.
In fact, if you're looking for a particularly jungly island, Koh Chang is one of your best options. Trekking through the dense rainforest and up and down Koh Chang's steep peaks is a challenging but rewarding experience which contrasts nicely with being a beach bum for a few days. Hikes can last a few hours to an entire day, and a guide is highly recommended (and for some hikes even required) so you don't get lost or wander off a cliff. Many hikes end with a dip in a waterfall (Klong Phu Waterfall is one of the most popular) or a viewpoint overlooking the island.
Still bored? The island also has cooking classes, yoga studios, ziplining, kayaking, and temples to visit. Koh Chang is close to the border with Cambodia, and getting here will take a full day, whether you're coming from Cambodia or Bangkok. Due to its remoteness, Koh Chang hasn't been in the tourism business nearly as long as some of the other islands, so much of it still has a rugged, backpacker feel, with the primarily small guesthouses and beach bungalows brushing against the edge of the jungle. Once you get past the lack of five-star restaurants and occasionally spotty electricity, Koh Chang's ready to be any kind of island you're looking for.
Kot Kut: The Castaway Island
As one of the world's top travel destinations, the Thailand islands are hardly undiscovered. So what do you do when you want to escape the crowds, the package holidays, and the strip malls springing up alongside the beach? You head to Koh Kut. Koh Kut isn't the place to go if you're looking for some lively parties (because there aren't any) or fancy dining (most restaurants are small and attached to guesthouses). Instead, this is the place where you go to get away from it all.
Grab some sunscreen, find a stretch of sand on one of the island's long, largely deserted beaches, and spend the day watching the coconut trees sway in the breeze, perhaps occasionally getting up to take a dip in the ocean. In this day and age, there are no sizeable Thai islands, besides those that are nationally protected, that are completely undeveloped, and Koh Kut does have a few resorts and travel shops, but its development is still miles behind most of its cousins. Cars are still rare here, there are no tacky tourist bars, and many beaches around the island have yet to see any development.
The western side of Koh Kut has the best beaches, with perfectly white sand and few rocks. This is also the most developed part of the island and where the resorts are located. However, a calm, quiet feeling still pervades, and the crowds common on many other islands are rare. 
If you're feeling more active, you can also explore the rest of the island, including Koh Kut's interior. Two waterfalls, Klong Chao and Klong Yai Ki, can be reached by kayak or a hike through the jungle, and both have large natural swimming holes at their base, a perfect way to cool off. There's also a natural estuary near Klong Chao where you can paddle a kayak between the mangrove roots and possibly spot some wildlife not often seen on other islands. However, no one will blame you (and few people will even be there to see) if you do nothing other than make your lazy island dreams a reality on Koh Kut.
Koh Pha-Ngan: The Party Island
Koh Pha-Ngan is a large island with temples, waterfalls, and mountains to explore, but most people come here for one reason: the island's infamous full moon parties. At these events, which often occur an entire week around the full moon to maximize the good times, tens of thousands of young backpackers descend upon the island for one of the planet's most raucous parties. During full moon parties, every bar on Koh Pha-Ngan will have drink specials (often sold by the bucket), dancing, and music playing full blast. Wander down to the beach and you'll find people selling neon paint (which many revelers swirl over themselves until they practically shine in the moonlight), bonfires, fire dancers, and, of course, more alcohol. (There are also various drugs available during full moon parties, but doing any of them is strongly discouraged. All drugs are illegal in Thailand, and offenses are punishable by prison time. Also, there are people who specifically come to Koh Pha-Ngan to prey on party-goers under the influence, so just stick to the legal fun. There's plenty of it.)
The full moon party is held on the southern tip of the island, at Hat Rin, which is home to two beaches: Sunrise Beach and Sunset Beach. At full moon parties, you'll meet people from all over the world looking for a good time. Most start the evening at the bars and clubs. Then, when they want a change of scenery, they head down to the beach and continue the party until the bonfires dwindle and the sun comes up.
If you can't make it to the island during the full moon, don't despair. Although full moon parties are the biggest, Koh Pha-Ngan also hosts parties on the half-moon, quarter-moon, new moon, and pretty much all other days. Whenever you make it there, there'll be something going on.  Full moon parties are a "must do" for many young visitors to Southeast Asia, but if you go, remember to stick with people you know, keep your valuables safe, and wear shoes on the beach, as broken glass is common.
As a bonus, when you're finished partying and looking for a place to recover, Koh Pha-Ngan has some of the best beaches in Thailand, and they'll likely be empty during non-full-moon weeks when there is a sharp decrease in tourists. There are excellent beaches all around the island, but if you really want to get away from the drunken louts you've spent all week partying with, Hat Khuat (Bottle Beach), on the northern part of the island, is one of the quietest and most beautiful beaches Koh Pha-Ngan has. It can be reached by boat or a strenuous 2-3 hour hike from Hat Rin, which is one way to burn off those alcohol calories.
Koh Phi Phi: The Postcard Beach Island
If all you want from your Thailand holiday is the most beautiful beach you've ever seen in your life, get your tickets booked for Koh Phi Phi. Rocketed to fame as the setting for the movie The Beach, starring Leonardo DiCaprio, Koh Phi Phi is the stuff of screen savers. Except this island is far better than a screen saver because you can actually swim in those turquoise waters, lay in that powdery sand, and take a kayak out to the towering cliffs that perfectly frame the scene. Koh Phi Phi is actually a series of islands, with the largest island known as Koh Phi Phi Don, or just Koh Phi Phi, and the second-largest island called Koh Phi Phi Leh.
Koh Phi Phi's allures aren't a secret, particularly Maya Bay on Koh Phi Phi Leh where The Beach was filmed, but the islands have enough secret coves that you'll be able to escape the crowds if you want to. Additionally, Koh Phi Phi's popularity contributes to a lively social scene, particularly among young backpackers and solo travelers. On Koh Phi Phi Don, popular sites to visit include Monkey Beach, home to a group of occasionally over-friendly monkeys (don't leave your valuables lying around), Long Beach, and Pileh Lagoon. There's also kayaking, diving, and rock-climbing opportunities on the island. Koh Phi Phi Leh is a national park and does not allow overnight visitors, but day trips are extremely popular, particularly to Maya Bay. Even if you normally avoid crowds like the plague, Maya Bay is a place you'll want to make an exception for.
Koh Samui: The Honeymoon Island
One of the largest and most famous Thai islands, Koh Samui has perfected the art of the luxurious vacation. The island has its own airport, so you can go from the pulsing energy of Bangkok to relaxing poolside with a cocktail in a matter of hours. While there are budget accommodations ideal for backpackers, Koh Samui caters primarily to mid-range and high-end tourists. Instead of deserted coastlines and small bungalows, Koh Samui is more about spa packages, deep blue infinity pools, and five-star restaurants offering every cuisine you could wish for.
The beaches are some of the best in Thailand, mostly clustered on the northern and eastern ends of the island, and you could easily spend your entire vacation rotating between the ocean and your hotel's swimming pool, likely only a short walk away. In terms of activities, including family-friendly ones, Koh Samui has diving, paddleboarding, kiteboarding, and a couple of water parks to round it out. For those looking for pampering and rejuvenation, Koh Samui is famous for its world-class spas and yoga retreats.
Koh Samui is also a popular destination for couples and, if you have the budget, your vacation could include couples massages, a personal chef, yacht cruises, and your own private pool. You won't be the only one on the beach in Koh Samui, but when that beach comes with a secluded cabana, a personal masseuse, and dinner while watching the sunset, solitude may not matter so much.
Koh Tao: The Diving Island
Koh Tao is the place to get diving certified in Thailand. There are other islands with excellent diving, but in terms of cheap and abundant certification classes, you can't beat this little island in the Gulf of Thailand. Koh Tao is home to around 50 dive schools, and the competition between them means that quality is high and prices for certification classes are some of the cheapest you'll find anywhere in the world. (Expect to pay about 9,000-10,000 Thai baht ($255-$285 USD) for a four-day Open Water certification class.) In fact, Koh Tao is the most popular place in the world to get a diving certification.
Of course, great classes don't matter if there isn't much to see under the water. Luckily, Koh Tao is a world-class diving spot. It's surrounded by waters that contain the trifecta of diving desirables: clear water, abundant reefs, and warm temperatures year-round. While diving in Koh Tao, it's not unusual to find yourself swimming among a variety of multicolored fish like Yellow boxfish, Beaked coral fish, and Pink anemone fish, as well as rays, Hawksbill turtles (Koh Tao means "Turtle Island"), and  the occasional whale shark blotting out the sun above you.
Advanced divers can also participate in specialized dives such as night dives, shipwreck dives, shark dives, cave dives, and marine videography courses. If you're interested in one of these courses but are only a novice diver, know that many people end up staying on Koh Tao far longer than they originally planned because it's such an enjoyable spot. So you may be able to get in enough dives to reach expert status before you leave the island. Koh Tao's cheap diving courses attract a lot of young travelers, and the island has a busy party scene. Enrolling in a diving course is a great way to meet new people since most courses offer on-site accommodation, which means you'll be living with your diving classmates. Spend the days exploring new sites underwater and the evenings swapping tales of what you saw over drinks at a nearby bar.
Phuket: The Big Island
Phuket (that's "pu-ket" by the way) is Thailand's biggest island and, as you may expect, its size allows it to have numerous activities. Easily reached by its own international airport, as well as by ferry or van transportation, Phuket is ideal for those who don't have a lot of time to spend traveling or those looking for a convenient base to explore other islands. 
The most popular areas of Phuket are Patong, Kata, and Karon, all clustered along wide, powdery beaches on the southwestern part of the island. These spots, although they have some of the best beaches on the island, are heavily developed and can feel a bit like tourists traps. In fact, people looking for an untouched island experience may want to choose a different island. However, for those who want a wide range of accommodation, activity, and dining choices, and don't need an empty beach, Phuket has a long history of tourism and options to please most travelers.
For those with energy to burn, there are abundant diving, horse riding, boating, kayaking, surfing, and kiteboarding opportunities all around the island. Phuket's size also allows it to have attractions most smaller islands don't have space for, such as art galleries displaying traditional and modern Thai art, independent book shops, a dog rescue, and even a few golf courses.
If you're looking for less development, the southern beaches of Rawai are less crowded but still have all the amenities you need. There are also two national parks located on the northern part of the island: Sirinat National Park and Khao Phra Thaew National Park, as well as the Khao Phra Thaew Royal Wildlife and Forest Reserve. Inside the forest preserve is the Phuket Gibbon Rehabilitation Centre, which takes in formerly captive gibbons and works to reintroduce them to the wild. Travelers can visit the Gibbon Centre and get a first-hand look at the work they do. After all that, if you're looking for a small-island experience, many islands, including Koh Phi Phi from this list, are easily accessible from Phuket for day trips or longer stays.
Surin Islands: The Nature Islands
For viewing creatures both on land and under the sea, it's hard to top the Surin Islands. This group of five islands near the Myanmar border make up Surin Islands Marine National Park, a protected area known for its prolific marine life. Although the reefs have deteriorated a bit due to coral bleaching, there's still plenty to see, and there are abundant opportunities for both diving and snorkeling. This is one of the best places in Thailand to see sea turtles and whale sharks, as well as numerous other aquatic species.
The reefs around the Surin Islands grow close to the surface of the water which makes them an especially good spot for snorkeling. Richelieu Rock is often cited as the best diving and snorkeling site around the islands and is known by divers around the world. Because the area around the Surin Islands is so unspoiled, there's also the chance of rare marine life encounters other islands can't offer. Past divers in the Surin Islands have come across a cave of nurse sharks and spotted rarely seen fish species such as Tomato anemonefish and the Elegant firefish.
There's plenty of life on land as well. The Surin Islands are heavily forested, and over 50 bird species, as well as numerous reptiles, mammals, and invertebrate species make their home in these largely primary rainforests. These creatures can be spotted while walking along the rugged 1.5 mile footpath cutting across the island, which can be hiked with or without a guide. The nearby Similan Islands are more well-known and offer similar wildlife, but the Surin Islands offer a less crowded, more unspoiled setting to view all the nature.
Additionally, the Surin Islands are the part-time home of the Moken people, often known as sea gypsies, who live in the sheltered coves of the island during monsoon season, from November to March. On the Surin Islands, it wouldn't be unusual to spend the morning swimming amongst sharks, barracudas, and the occasional sea turtle, then haul yourself on land and spend the afternoon watching monitor lizards cool off in a pond, macaques follow you in the treetops, and crabs race across the sand.
Visiting Multiple Thai Islands
Many people visit more than one island in Thailand, and making this work well takes a bit of planning. Your trip will be smoother and you'll maximize your time on the islands if you choose to visit islands that are located close to each other. Below, the islands have been grouped into three geographical categories, and there's information on how to travel between them. To travel from one group to another, you'll likely have to return to the mainland to catch a new boat or plane.
Andaman Sea
Phuket
Koh Phi Phi
Surin Islands
Phuket can be reached by plane, car, bus, or boat. Koh Phi Phi and the Surin Islands can only be reached by boat. There are multiple boats running daily between Kho Phi Phi Don and Phuket, as well from mainland ports to Koh Phi Phi, so both islands can be easily visited on the same trip. Most people visit the Surin Islands as part of a tour, and these leave regularly from several islands, including Phuket. Trips to the Surin Islands usually last several days because these islands take longer to get to.
Gulf of Thailand (Western Part)
Koh Pha-Ngan
Koh Samui
Koh Tao
Each island can be reached from the mainland by boat, and Koh Samui has its own airport as well. There are boat services between the three islands that run several times a day, so it's easy to travel between them.
Gulf of Thailand (Eastern Part)
Koh Chang and Koh Kut are both located near the Cambodian border. Both are reached by boat, although boats go more regularly to Koh Chang than Koh Kut, so you may want to start your trip at the former. There are regular boats between the two islands.