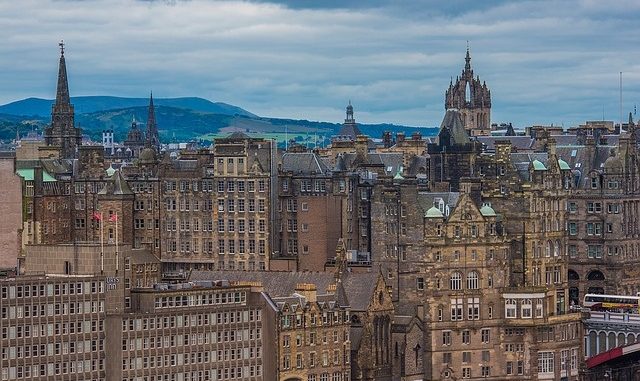 Wondering what to do in Edinburgh? The city is filled with so much history, culture, and nature that narrowing down what to see can be a challenge. Fortunately, we're here to help. This guide explores the nine absolute best things to do in Edinburgh.
The nine sites are organized into three categories: castles and palaces, hikes, and museums. For each category, two justly popular Edinburgh attractions are described, as well as an off-the-beaten-track attraction not yet discovered by the majority of tourists. Visiting the attractions in this guide will give you a look at the rich history, culture, and natural beauty of Edinburgh and let you see all facets of the city. At the end of the guide is a sample three-day itinerary you can use to help plan your trip.
The 9 Best Things to Do in Edinburgh
Check out this map of the nine best things to do in Edinburgh, and then read more about each attraction below. You can also view this map online.
Castle and Palaces — Orange
Edinburgh Castle
Holyrood Palace
Craigmillar Castle
Walks and Hikes — Green
Arthur's Seat
Calton Hill
Cramond Island
Museums — Blue
National Museum of Scotland
Scottish National Gallery
Lady Stairs House & Writers' Museum
Edinburgh Castles and Palaces
For over 1,000 years Edinburgh has been home to royal residences, and the city's  castles and palaces are often a major reason people choose to visit Edinburgh. These three sites are each a great way to explore Edinburgh's long and complicated history.
Edinburgh Castle
Dominating both Edinburgh's skyline and its guidebooks is the imposing Edinburgh Castle, brooding on its perch atop Castle Hill. This is one of the most historic sites in all of Europe. There's been some sort of structure on this site since at least the 2nd century, and a royal castle since at least the 12th century. During its 1000 year+ history, the castle has served as a royal residence, survived over two dozen sieges, played an important role in the Wars of Scottish Independence, and was used as a military barracks.
This is a large site, and while exploring it you'll see Royal Apartments, including the room where Mary, Queen of Scots, gave birth to the future King James I of England and Scotland, a 19th-century jail, complete with prisoner graffiti, the castle battlements, the Scottish National War Memorial, and the National War Museum of Scotland. Make sure to see Mons Meg, a massive medieval siege gun, the Scottish Crown Jewels, and St. Margaret's Chapel, built around 1300 and the oldest surviving building in Scotland.
The entry price for the castle is somewhat steep: £16.50 for adults and £9.90 for children. To get the most out of your ticket, arrive early in the day (the castle opens at 9:30AM) so that you have enough time to see the castle's many sites. This is also the most visited tourist attraction in Scotland, and arriving early will help you avoid the crowds.
Holyrood Palace
While Edinburgh Castle is significant for both its royal and military history, Holyrood Palace, also called the Palace of Holyroodhouse, is firmly a (peaceful) royal retreat. The current building was constructed in the early 1500s and served as the main residence of Scottish kings and queens for several centuries. Some of its past blueblood residents include King George V, Charles I, and Mary, Queen of Scots.
Today, Holyrood Palace is the official Scottish residence of the Queen, who typically stays there for part of June and July (during this time the palace is closed to visitors). As befitting a royal home, Holyrood Palace is richly decorated, and visitors can tour numerous rooms including those used by Mary, Queen of Scots, the Morning Drawing Room, which is still used by the Queen to greet visitors, and the Great Gallery, lined with portraits of every king of Scotland. Visitors can also tour the romantic ruins of Holyrood Abbey next to the palace, and in the summer there are extensive gardens to wander through.
If you're not particularly interested in seeing how royals lived and continue to live, it may be better to stick with Edinburgh Castle, which offers much more than royal apartments. However, many people enjoy the elegant atmosphere of Holyrood Palace, as well as the fact that it takes much less time to tour than Edinburgh Castle. Many people manage to see everything in 1-2 hours. Tickets for the palace are £12 for adults and £7.20 for children and include access to the gardens and abbey.
Craigmillar Castle
Even though it sits just a mile outside city limits, Craigmillar Castle is practically undiscovered compared to the waves of visitors Edinburgh Castle and Holyrood House see. It's their loss because Craigmillar is one of Scotland's best-preserved castles and has an interesting history and beautiful setting to boot.
Built (slowly) between the 14th and 16th centuries, Craigmillar Castle changed hands between the Scots and English several times as it was fought over. It was also here that a group of conspirators formed their plot to kill Mary, Queen of Scots' disreputable husband, Lord Darnley.
Original walls from nearly all of the castle's main structures survive, and visitors can see the ruins of the main hall, east and west ranges, store rooms, chapel, and the dovecote, now taken over by local pigeons. The extensive ruins give an excellent sense of how medieval castles were laid out and built. You can also climb to the top of the tower house for sweeping views of the gardens and pastures that surround the castle.
In contrast to the highly-restored and highly-visited Holyrood and Edinburgh Castle, Craigmillar's well-preserved ruins and natural setting give a completely different, and often more authentic, experience. Tickets, at £5.50 per adult and £3.30 per child, are also significantly cheaper.
Edinburgh Hikes
Despite being a major city, Edinburgh is surrounded by natural beauty and outdoor attractions. Make sure you take some time to visit these outdoor Edinburgh attractions and see what the city has to offer beyond its historic buildings and museums.
Arthur's Seat
As perhaps the most popular hiking trail in Edinburgh, Arthur's Seat is certainly not unknown, but its popularity is well-deserved. Put simply, this site gives the best views of Edinburgh and its surroundings.
Arthur's Seat is located in the center of the city, the main peak of a group of small mountains running through Holyrood Park. The hill, whose peak reaches 823 feet, is a fairly easy hike and can be climbed in about 45-90 minutes. Arthur's Seat and the surrounding peaks were formed by now-extinct volcanoes, and they've been designated as a site of special scientific interest due to their geologic deposits and formations. At the top are panoramic views of the city of Edinburgh, the sea, and rolling grasslands of the surrounding area.
The hill can be climbed in nearly any direction, although climbing from the east is the easiest and least-steep way. Arthur's Seat is free to access and can be hiked anytime. However, this activity is best saved for fair weather days as getting to the top in wet or windy weather can be little more than a miserable slog.
Calton Hill
Another great lookout point (and one of the city's most popular spots for photos), Calton Hill offers far more than just a nice view. Calton Hill is the Scottish government's headquarters, and the grassy spot, one of Scotland's first public parks, is also home to an eclectic collection of monuments.
Among the more prominent monuments are the Nelson Monument, the telescope-shaped tower in honor of Vice Admiral Horatio Nelson, a Grecian-like circular temple in honor of University of Edinburgh professor Dugald Stewart, and the love-it-or-hate-it National Monument. When construction began in 1826, the National Monument was intended to be a smaller model of the Parthenon in Athens, but funding ran out, and it has sat in its somewhat odd, somewhat attractive, half-finished glory ever since.
Despite its central location within the city, Calton Hill still maintains a wild and natural feel. On your way up and at the top, you'll pass windswept grasses, clumps of gorse, and often a sprinkling of wildflowers. Reaching the top of Calton Hill is only a few minutes walk, so if you're not up to Arthur's Seat, it makes a shorter, easier hike with similar panoramic views. However, many visitors to Edinburgh choose to visit both places because they each offer opportunities to see a wilder, less-developed side of the city.
Cramond Island
If you'd like to trade hilltop views for seaside walks, head to Cramond Island. During low tide, you can take the roughly one-mile walk, along a paved path, out to Cramond Island, a picturesque spot of land in the Firth of Forth.
The island has an area of about 19 acres, and, although these days it's uninhabited, there are some overgrown ruins of a farmstead and stone jetty. There are also a few military structures built during WWI and WWII that can be explored. Cramond Island is a great place for a picnic, to take in sunset or sunrise over the sea, or just to admire the rugged beauty of the island. In the spring the island is often carpeted with wildflowers.
Cramond Island is located off the coast of the suburb of Cramond. The beginning of the path to the island can be easily reached by taking bus 41 from the center of Edinburgh (about a 35-minute ride and a 10-minute walk from the bus stop) or by driving.
Cramond Island is only accessible at low-tide, so it's very important to check tide charts before you head out to the island; people have been left stranded overnight waiting for the tides to go down. There are tide times posted at the start of the walk, and you can also check them online. Be sure to give yourself enough time for getting there and back, as well as exploring the island.
Edinburgh Museums
For many travelers, visiting the city's museums is one of the top things to do in Edinburgh. These museums range from huge, world-class buildings to smaller structures with a much narrower focus.
National Museum of Scotland
For an extensive look at Scottish history through the centuries, be sure to visit the National Museum of Scotland. This massive museum contains over 20,000 objects spanning from prehistory to the present day. Many of the galleries follow the chronological history of Scotland, exploring the country's first inhabitants, the Medieval Ages, the Victorian era, and more.
The museum covers far more than just Scottish history, though; there are also galleries dedicated to science and technology, world cultures, and art and design. Within the National Museum of Scotland, visitors can see Iron Age weapons, full-sized dinosaur skeletons, a Maori war canoe, and the taxidermied Dolly the sheep, the first successfully cloned animal. The National Museum has undergone extensive renovations, and today it makes great use of technology to provide highly interactive exhibits. Guests can play traditional instruments from around the world, simulate their own genetic experiments, peer through telescopes, and use abundant touch screens to learn more about specific exhibits.
It's free to visit the museum, and you can easily spend an entire day exploring the different galleries. If you're short on time, you may want to check out the National Museum of Scotland's website to look at a map or see what the different galleries include so that you'll be sure to see the exhibits you're most interested in.
Scottish National Gallery
This elegant building, with its soaring neoclassical architecture, striking red walls, and plush carpets, is an appropriately impressive setting for the works it houses. The National Gallery showcases thousands of works within its octagonal rooms. Paintings make up the bulk of the pieces displayed, but there are also sculptures, photographs, and drawings to view.
The collection contains European works from the early Renaissance to 1900, with an emphasis on pieces by Scottish artists. Within the museum's basement galleries is the world's largest collection of Scottish paintings, including works by prominent Scottish artists Allan Ramsay, Sir Henry Raeburn, David Wilkie and William McTaggart.  These works often depict landscapes or scenes of rural Scottish life.
The museum also has an impressive collection of Old Master paintings, including some by Van Dyck and Tiepolo. Other highlights include works by Botticelli, Cezanne, El Greco, Gauguin, and Monet. The Scottish National Gallery is free to visit, and, as it houses the world's top collection of Scottish works, it's an excellent place to study the artistic history of Scotland and see some of the country's beautiful landscapes transformed into watercolors and oil paintings.
Lady Stairs House & Writers' Museum
Right off the Royal Mile, tucked away down a narrow alley used primarily by locals, is this townhouse built in 1622 and eventually owned by the Dowager Countess of Stair (hence the name). Within the house is the Writers' Museum, which contains memorabilia from three famed writers who each lived in Edinburgh for a time: Robert Burns (who stayed in a house across the street on his first trip to Edinburgh), Sir Walter Scott, and Robert Louis Stevenson. The museum's small space is filled with manuscripts, photographs, personal objects, and portraits of these writers.
The building itself is also historic in its own right. Much of the original 17th-century stonework remains, and additions added later include a romantic turret and large fireplace. Be careful when you're entering the house though; the deliberately uneven steps were an early form of defense against burglars. Over the main entrance is a stone lintel with the initials and wedding date of the first owners, William Grey of Pittendrum and Geida Smith.
The Writer's Museum is one of Edinburgh's most charming museums, and, even if you're not particularly interested in literature, the Lady Stairs House is a great way to see a historic Scottish building free from crowds. As an added bonus, there's no admission fee.
What to Do in Edinburgh in 3 Days
Follow this itinerary to see all of Edinburgh's top attractions in three full, but not overwhelming, days. You'll see historical, educational, untamed, and cultural sides of the city, but you'll still have plenty of time for meals and taking breaks. Edinburgh is a very walkable city, and each of these destinations can be easily reached on foot from the city center, with the exception of Craigmillar Castle and Cramond Island, which are short bus rides away.
Day 1
Begin your visit at Edinburgh's most famous attraction, Edinburgh Castle. By arriving in the morning, you'll be sure to have plenty of time to take in the castle's numerous sights.
After you've spent a couple of hours roaming the castle, get some fresh air by making the short hike to Arthur's Seat. This is a great spot to have a picnic lunch and take a break before heading out for the rest of the day.
Once you've stretched your legs among the hills, go for a stroll along the Royal Mile and stop by the Lady Stairs House to see a historic Edinburgh building and the charming, eclectic collection of the Writers Museum.
Day 2
Start your second day by getting up early and catching the sunrise atop Calton Hill. After admiring the views, wander around the various monuments and take in their differing styles.
At the base of Calton Hill is Holyrood Palace whose finely furnished rooms make a nice contrast to the ruggedness of Calton Hill. Spend an hour or so wandering the palace, and, if you'd like some more fresh air, explore the palace gardens and the ruins of the abbey.
After viewing portraits of Scottish rulers in Holyrood Palace, end your day visiting the Scottish National Gallery. Be sure to visit the Scottish galleries to see paintings and drawings by some of the country's most renowned artists.
Day 3
On the third day, visit the massive National Museum of Scotland. Spend as long as you'd like here, admiring the historic artifacts, scientific innovations, and objects from around the world.
After touring the museum, you can either head out to Cramond Island and enjoy a picnic and views of the sea, or, for a more historical slant, head to Craigmillar Castle and take in its well-preserved ruins. Both offer great natural settings and a chance to see a wilder side of the city. It's also possible to visit both the castle and the island, although this makes for a rather full day.