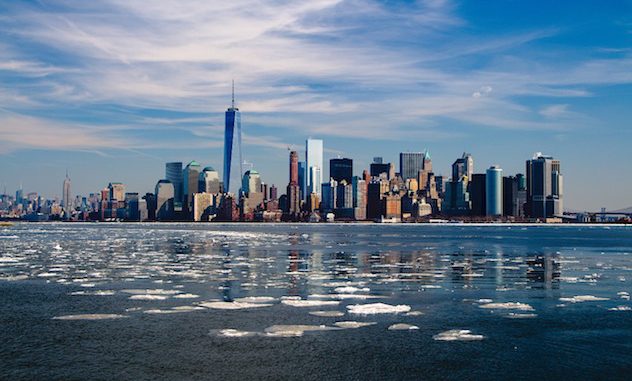 NYC is one of the biggest tourist destinations in the world—which makes sense as it's also one of the biggest cities in the world. In this travel guide we'll focus on things to do in Manhattan, the most tourist-friendly of the boroughs, with a wide range of option that will appeal to every type of traveller.
There are major sights that every NYC tourist has heard of and wants to see…but what about some of the less well-known things to do, eat, and see? In this guide I'll provide a kind of choose-your-own adventure for things to do in Manhattan: I'll start with the most well-known Manhattan attractions—a tourist's "greatest hits," if you will. Then I'll move on to some cool things to do in NYC that aren't quite so clogged with other tourists but are popular among locals if you're looking for a bit more of an authentic New York flavor. Last, I'll hit on what's really off the beaten path for NYC: the secret places, the obscure, and the weird. This is stuff even most Manhattanites don't know about.
Finally I'll go over the necessary logistics of a trip to Manhattan: how to get there, how to get around, and where to stay. All the nuts and bolts. By the end of this guide you'll be prepared for an amazing trip no matter your desired level of adventure, whether it's for two days or two weeks!
What To Do In Manhattan: The Main Attractions
There are the most well-known museums, landmarks, and tourist spots in the city. They're certainly worth seeing, especially if you want to get a feel for the most iconic sites on your first trip to the city. However, be prepared to jostle crowds and wait in long lines.
This sprawling park in the middle of Manhattan has everything from manicured walkways to sprawling woodlands to water features to its own zoo! Notable sites include the reservoir (above the 86th St Transverse), the Bethesda fountain in the middle of the park just north of Terrace Drive, and the Literary walk at the south end of the Mall. Worth hours of exploration, but don't get caught in the park after dark—it's not safe.
Housing thousands of years of art and art objects from around the world in a sprawling building on the east edge of Central Park, the Met truly has something for all tastes. See a fully (re)assembled Egyptian temple, Greek and Roman statuary, beautiful Kimono and woodblock prints, and works by Renaissance masters all in one day! Be sure to check out the Costume Institute, on the Museum's lowest level. The museum is pay-what-you will, although there is a suggested donation. It's open late on Fridays, until 9 pm.
Of course, NYC is known for its stellar Broadway productions—you can catch both trendier productions and long-running classics like the Lion King and The Phantom of the Opera. If you have your heart set on seeing the latest hit show I advise you to check out Time Out's tips for finding cheap(er) Broadway tickets.
If you can't make it to a show, walking through Times Square at night is practically a production of its own. Flashing lights, tons of tourists, enormous stores and restaurants—it's gaudy and garish and always packed, but it does have its own kind of iconic magnificence.
It seems like every travel guide has the Empire State Building as pretty much item number one for "Things to Do in Manhattan, NY." And for good reason—it's one of the city's most recognizable landmarks, and the views from the observation deck are breathtaking (assuming the weather cooperates). Be aware that lines are long and tickets are expensive.
This is another truly iconic New York site, and a genuine hub of transit activity. The building is stately and elegant inside and out; marvel too at the commuters who have grown accustomed to its magnificence and race through the terminal head-down to catch their next train.
This massive complex of buildings in Midtown commissioned in the 30s by the uber-rich John D. Rockefeller offers several attractions of interest. In addition to guided tours that highlight the Art Deco architectural features and amazing sculptures, you can go up to the observation deck at the Top of the Rock. A potential advantage over the Empire State Building observatory is that Empire State Building is actually visible from this one.
If you're into taxidermy, dinosaurs, or gemstones you'll have a field day at  the Museum of Natural History. All kinds of curiosities, factoids, and specimens concerning the earth and our universe are to be found in this enormous museum with its famous blue whale suspended from the ceiling in one of the larger galleries.
This museum and memorial at the site of the former World Trade Center comprises a memorial park and a mostly underground museum with the mementos and stories of the victims. The site has not been without its controversies, but millions have visited since it opened to the public in May 2014.
With six floors of art from the late 1800s and beyond, you can see everything at the MoMA from Monet to Magritte to experimental light and sound installations. The museum has one of the largest collections of modern art in the world. Admission is free on Friday nights; it's always jam-packed.
This is the main branch of the New York Public Library. You may well recognize its iconic lion statues and landmark status, but did you know it also has temporary exhibits inside? The exhibits are small but well-curated and often display priceless archival material from notable authors and artists. Additionally, the entire building itself is beautiful–a veritable temple of books!
It's also adjacent to Bryant Park, an attractively landscaped green space with lots of sitting space—a great place to enjoy nice weather and people-watch after checking out the Library.
Cool Things to Do in NYC: Popular With the Locals
Once you've exhausted (or decided to forgo) some of the top NYC attractions, you might want to turn to some non-touristy things to do in NYC. These are the sites New Yorkers gravitate towards when they have free time to explore the city. Be sure to check out at least one!
Everyone's heard of Central Park–not so much Riverside Park. A gorgeous hidden gem on the Upper West Side that abuts the Hudson river, Riverside has miles and miles of wooded trails and beautiful views. From May to November, local bar and eatery Ellington opens up a second location in the park (near 106th)—a prime spot for enjoying good weather.
This gallery converted from the former home (and collection) of industrialist Henry Clay Frick is small but mighty, featuring a variety of Old Masters paintings and fine and rare housewares, rugs, and porcelain goods. See it for a glimpse into Old New York; Frick amassed the entire collection himself during his life, and really lived among the fancy furnishings.
This innovative park is built on an old elevated rail line located in the trendy Chelsea neighborhood. Come for the novelty, stay for the people-watching and great views of the Hudson.
This food hall used to be an ingredient market for professional cooks and city restaurants. Now it's more of an upscale food court with almost forty options covering a wide variety of meal and snack options. You might have to eat standing up because of the crowds, but the food's delicious.
An offshoot of the Met Museum, the Cloisters houses their collection of medieval art in a quasi-monastic setting, complete with medieval-style gardens. Of special note are the unicorn tapestries.
See how most of New York lived in the days of yore—in cramped, unsanitary apartments—in the Tenement Museum, which is dedicated to "America's urban immigrant history." The space, a restored actual tenement building complete with historically accurate living spaces, can be seen by guided tour only.
7. Atwood, 986 2nd Ave
For a fancier dining experience, try the Atwood, a trendy rustic-chic restaurant and bar in Midtown East serving upscale twists on lots of typical Americana fare. It's dim and atmospheric at night (a perfect date spot) and a sweet brunch place during the weekend daytime.
After dark, this sports bar in Murray Hill starts playing old music videos on its screens and it turns into an '80s and '90s dance party. Expect a rowdy but friendly crowd and lots of singing along! One of the most fun things to do in Manhattan when the sun goes down.
This free museum affiliated with the Fashion Institute of Technology offers rotating, themed exhibits showcasing their extensive collection of clothes and accessories from all eras. Past exhibition themes include "Fairy Tale Fashion," "A Queer History of Fashion," and "Triangle Factory Fire." If you didn't quite get your fill at the Met's Costume Institute, this museum is for you! There really aren't that many free things to do in Manhattan that aren't outdoors, which makes this a particular treasure.
This notable independent bookshop boasts 18 miles of books in their enormous East Village store! They have new, used, and rare books, as well as book-themed gifts and store merchandise with their iconic logo.
Unique Things to Do in NYC: Manhattan's Secret, Interesting, Obscure, Weird, and Adventurous
Looking for some places to go in Manhattan that are really off the beaten path? Here are some of NYC's most interesting and crazy things to do.
If you want to explore one of the truly secret places in NYC, hunt for one of the city's tiny parks. Greenacre Park, tucked away in Midtown East, is one of the best. It's a green oasis with a waterfall and graceful trees that feels like a pocket of fairyland dropped right into the city.
If you want to talk about sex, baby, the Museum of Sex is for you. It features an extensive collection of ever-changing exhibits addressing all aspects of human sexuality, from the biological to the cultural to the downright pornographic. It's safe to say that you should leave the kids at home for this one.
This "light and sound installation" created by a husband and wife team has gone on in various iterations for over two decades and features droning music and soft, pastel lighting. Visitors are encouraged to stay for hours to become fully immersed in the atmosphere. Some have described it as a spiritual or sacred experience; it's definitely one of the most unusual things to do in NYC. Note that the Dream House closes for the summer and re-opens in the fall.
The Merchant's House was originally built in 1832, and a merchant family (surprise surprise) lived there for over a hundred years. Guided tours of the historical house will show you four floors of lovingly restored 19th-century style rooms—and maybe some ghosts! The Merchant's House is legendary for its supposed Treadwell family specters, and was even named Manhattan's most haunted house by the New York Times. Candlelit ghost tours of the house are offered periodically if you're adventurous and looking for a spooky experience.
This abandoned subway station was once a beautiful showpiece of rapid transit, but it hasn't been used in years. Public tours are offered by the New York Transit Museum, if you purchase a museum membership and a tour ticket (this will set you back about a hundred bucks in total). However, some intrepid folks have been known to ride the Brooklyn-bound 6 train to the end of the line (the Brooklyn Bridge stop), duck down to stay hidden when the conductor asks everyone to get off the train, and then sneak a peek at the station when the train is turning around in the old City Hall subway station. If you yourself are an intrepid soul, be aware that this is not actually legal!
This art installation by Walter De Maria, in place since 1977, is literally a room full of pounds and pounds of dirt in a Soho art gallery. The piece is supposed to be worth over a million dollars. It doesn't get more "weird things to do in NYC" than this.
This rare books library maintained by the NYAM is full of an extensive and hugely significant collection of old medical treatises from the 15th century onward. You can make an appointment to see the collection or check out the library's event programming, which involves lectures and workshops on interdisciplinary humanities-and-medicine topics.
If you're way over Broadway, try "Sleep No More," an interactive production of Macbeth in which everyone in the audience wears a mask. An immersive and exciting theater experience.
If afternoon tea is your thing but you don't want to go somewhere super posh and stuffy like one of the big hotels in midtown, King's Carriage House is the place to go. With adorably decorated tea wares, an unflappable staff, and a delicious selection of tiny sandwiches and snacks all tucked away in a little house with Old World charm, it's a genuinely calm and quiet retreat from the hustle and bustle of the city. Just remember to make a reservation so they can be ready for you!
An adorable, unassuming French bakery plopped right into the Upper West side on Amsterdam Ave. The counter service is diffident but it's worth any trek: La Toulousaine is the best place for a flaky, melt-in-your mouth pain au chocolat this side of the Atlantic.
Map of Sites Mentioned
See here for See here for a map of all the sites!
The Logistics: How to Get There, How to Get Around, Where to Stay
Of course, before you can start adventuring around Manhattan, you need to work out the logistics of your trip!
How to Get There
If you're on the East Coast, you can take a bus to NYC for cheap. One-way fares from Boston to NYC, for example, can often be as low as ten dollars! Just make sure you're using a reputable bus company. (You can search bus company safety ratings in the US Department of Transportation's SAFER system.)
A more comfortable but slightly more expensive option is the train. If you buy far enough in advance, for instance, an Amtrak coach fare from Philadelphia to Penn Station, New York, is $39.
If you're too far for train or bus, your only real option is to fly. In terms of airports, Newark, LaGuardia and JFK all have relatively affordable mass transit options to get you into the city, so you can shop around for the best airfare price. You should note, though, that your trip from JFK on the MTA will be more than an hour if you're staying in Upper Manhattan.
How to Get Around
NYC is not a car-friendly city; renting a car is much more of a hassle than it's worth. The most cheap and reliable way to navigate the city is the subway and buses—collectively known as the MTA.
Because the MTA does not have free train-to-train transfers unless the stations are connected, it can sometimes be most cost-effective for travelers to get an unlimited pass for the time they are staying in the city instead of paying per fare. A 7-day unlimited pass costs $31. This is your most cost-effective option if you are going to use the MTA 13 or more times during your trip, even if you aren't staying in the city a full 7 days. NYC-dwellers are often almost comically suspicious of the bus, but don't avoid it—it's the best way to get across town!
If you need to take a car, Ubers are cheaper than taxis, especially if you do an UberPool and ride with other passengers. Plus you won't have to deal with the stress associated with hailing cabs in NYC. Watch for price surges, though—for any surge greater than 1.15, a taxi will be cheaper.
Where to Stay
Hotels in Manhattan are notoriously expensive (think well north of $200 even during relatively non-busy times for national hotel chains like Marriott). If you have your heart set on a hotel in Manhattan but you don't want to pay too much, you can troll sites like trivago.com for deals or try to visit in the "off-season" (mid-Jan through March, though of course the weather is also poor this time of year). The city is the busiest (and most expensive!) in the fall, when the weather is particularly lovely.
Also, don't stay near Times Square. Times Square is good for a look if you've never been, but it's noisy, crowded, not close to anything particularly interesting, and NYC-dwellers avoid it like the plague. Hotels there are also more expensive because tourist demand is so high. You're much better off staying a little (or a lot) uptown or downtown.
For cheaper options, you might explore staying in a hostel. Many hostels allow you to book private rooms, which are more expensive than shared rooms but much cheaper than hotels. You will still probably have to share a hallway bathroom, but a good hostel is clean, comfortable, and has free wifi. This is a great option if you are travelling with a group; if you book far enough in advance you should be able to get shared rooms together.
Airbnb is another good option, as a private room (or even an entire small apartment!) is often much cheaper than a hotel. If you have access to a kitchen, you'll also be able to cook for yourself—another great money-saving option in NYC. (But don't eat all of your meals at home! NYC is a great food town and you should take advantage of it!)
Final Thoughts on 30 Things to Do in Manhattan
While there's nothing wrong with hitting some of the major attractions in a place like NYC that's so full of legendary and fabled spots, it's also great to see some things most other tourists don't. So when you plan your trip to Manhattan, it can be more fun—and cheaper!—to go to a few places that won't be crowded with hundreds of other travelers. If you're feeling even more adventurous, you might even try going to some spots that Manhattanites have barely heard of!